Bathroom solutions from Sanipex Group and several of its partnership brands have been chosen for the to the first Warner Bros. themed hotel in Abu Dhabi.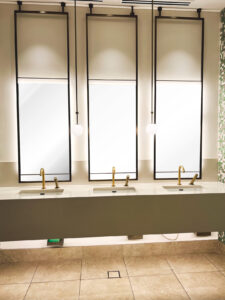 Part of the Hilton Group, the hotel offers a contemporary and expressive environment, from the public and communal areas to each of the guest rooms, where guests enjoy luxurious surroundings, a spa-like atmosphere and access to Yas Island theme parks. Sanipex Group supplied solutions from a selection of suitably high-end brands to ensure the washrooms and bathrooms are on point.
Rated by Trip Advisor as 2023 Travellers' Choice Best of the Best, the hotel features high-spec facilities that offer guests the first touchpoint to a tactile, visual and distinctive journey. For this high-profile project, specifiers drew on the expertise, unrivalled supply chain and all-encompassing product offering from many of the world's leading brands, including Bagnodesign, Aquaeco, Dornbracht, Geberit and Johnson Tiles to create washrooms and bathrooms of distinction.
The hotel's washrooms in its communal areas, function meets style head on, with Geberit WC flush plates, Bagnodesign basin mixers in luxurious brushed finishes and Aquaeco medical solutions for accessibility all ensuring that first impressions of Warner Brothers Hotel count.
Sanipex Group also supplied solutions for several of the hotel bathrooms. Here, guest comfort is prioritised alongside factors relating to ease of maintenance and hygiene. Solutions here include Bagnodesign WCs, washbasins, accessories and wall-mounted mirrors all create the luxurious image that is so important to such a location.