Photography by Brandon Barre
Rockwell Group has unveiled the interiors of the new 1 Hotel in Toronto, a mission-driven hotel that celebrates the beauty of Toronto's natural environment and offers a sustainable luxury experience in the heart of the city.
When envisaging the design concept for 1 Hotel Toronto, Rockwell Group responded to the question – "What if a luxury hotel was an inviting portal to the natural world, instead of a flight from it?". The material palette for the hotel takes inspiration from the muted colours of Lake Ontario and the contrasting tones of the passing seasons and features reclaimed timber, native plants, board-formed concrete, and local marble.  
"We have long admired 1 Hotels' sustainable and eco-friendly ethos, and we are thrilled to have been given the opportunity to design the new 1 Hotel Toronto with a biophilic emphasis," comments Rockwell Group's founder, David Rockwell. "Our vision for the hotel invites guests to celebrate Toronto's ecology through materiality and locally-made artwork." 
The hotel's lobby welcomes guests to a warm and nest-like space, surrounded by floor-to-ceiling glass windows which create a light box at night. The entrance to the hotel is framed with a mix of granite and limestone boulders, maple trees, local plants, warm wood, and a trailing green canopy, all reminiscent of Canada's natural landscape.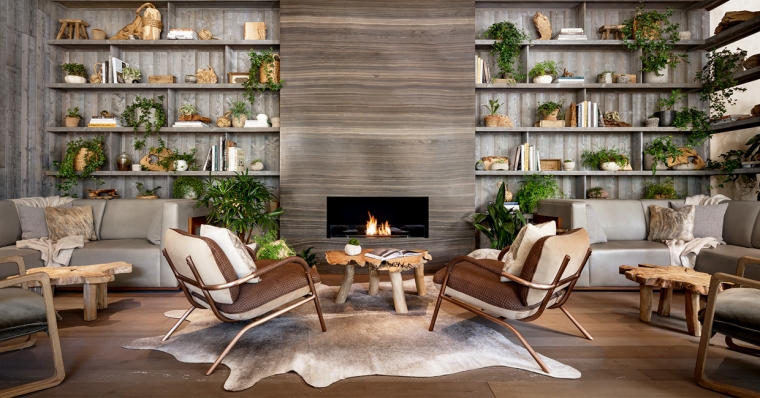 The lobby features 4.5 metre-high ceilings, reclaimed Elm wood flooring and shelving sourced from a dismantled barn in Ontario. Additional sustainable design details include a living green wall, found objects, local stone and reclaimed furnishings from materials such as elm wood and teak root.  
A stone wall with wood-like striations – carved out of glacial activity along the Eramosa River – serves as the backdrop to an art installation designed by Toronto-based artists Moss & Lam behind the check-in desk.  
1 Kitchen Toronto 
1 Hotel offers a neighbourhood dining and drinking experience, with a selection of two restaurants and two bars spread throughout the hotel.  
The modern 1 Kitchen is located in a glass-walled conservatory-like space with a vaulted wood ceiling and curved trusses hung with greenery.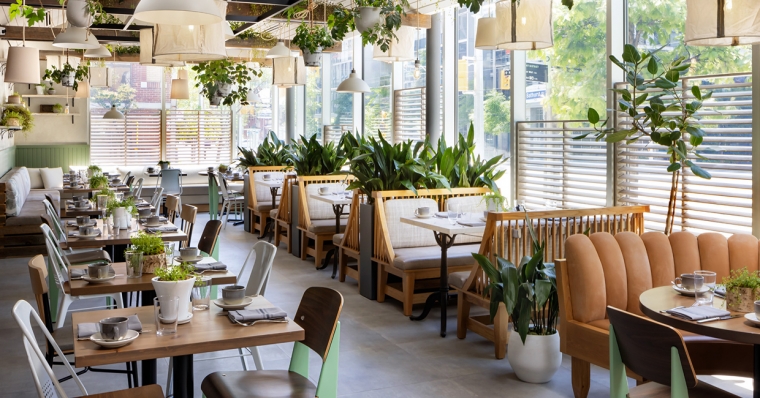 Madera
Organic Mexican restaurant, Madera, follows the design cues of the hotel, with sand-blasted textured wood, greenery, wooden dining chairs crafted by Benchmark, reclaimed live edge wood tabletops, artistic handmade vessels, and modern, vibrant lighting.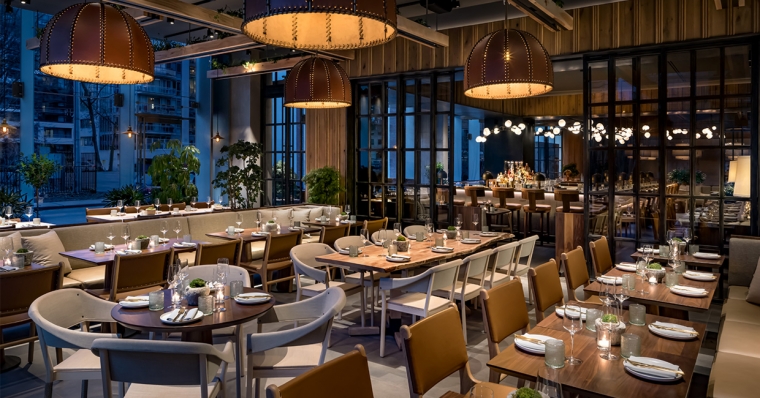 Harriet's
Harriet's is the city's newest rooftop hotspot, featuring an open concept sushi bar with sliding glass walls and a retractable roof that embraces the breathtaking city and lake views. The design details recall Toronto's flora and fauna, with a woven rope ceiling interspersed between wood beams, reclaimed Elm wood flooring and leather and lambskin accents.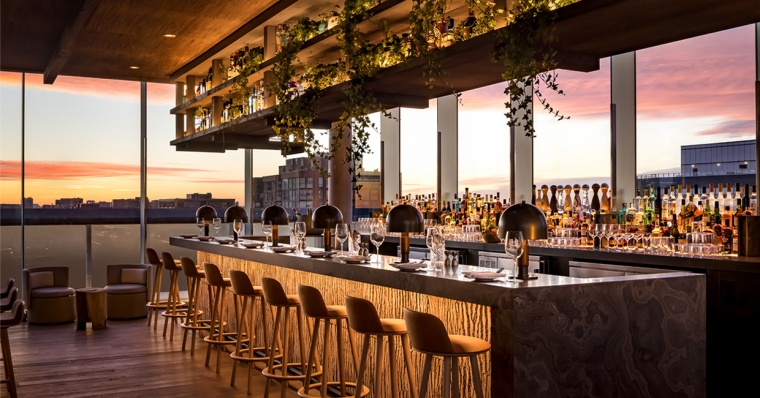 Guest rooms
The light and airy guestrooms at 1 Hotel Toronto feature sliding barn wood doors dividing the bedroom and bathroom. Rockwell Group added warmth to the Carrara marble bathrooms by utilising Hickory wood surrounds for the vanities.
A natural wood accent wall is added behind the bed, with a leather headboard. An art piece comprised of a fallen tree fragment, sourced by a local wood studio, completes the design.