Aman Kyoto captures the very best attributes of hospitality – the magic, sense of discovery, and cultural immersion it can inspire in its guests.
The resort is a retreat in a literal sense. Secluded within a secret garden at the heart of a 32-hectare forest, its grounds are awash with wooded walkways, serene forest glades and streams. The land – which is within walking distance of the UNESCO World Heritage Site of Kinkaku-ji Temple – is in fact part of what was an artistic community that gave rise to the Rinpa school of painting some 400 years ago.
Exemplary in its simplicity, Aman Kyoto was designed by longstanding partner, Kerry Hill Architects. The Singapore-based firm shares Aman's philosophy when it comes to the creation of environmentally and culturally sensitive properties, and has created a series of elegant structures in synthesis with the beautiful surrounds.
Aman Kyoto's central garden – named the Kerry Hill Garden in honour of the studio's founder – is set within a hidden valley, and is defined by a series of manicured platforms. Enclosed on one side by a small stream, and the other by a wooded hill, it offers an ethereal, ever-shifting landscape of mature cedar, cypress, camellia and Japanese maple trees.
The platforms were originally intended as the foundations for a textile museum – a dream of the site's former owner, who was one of Japan's most respected collectors of the obi. Instead, they've found a new purpose as the basis for the resort's sympathetically-designed pavillions.
At the heart of the resort is the Living Pavilion – a convivial space with a central circular fireplace, handmade raku tile panels and floor-to-ceiling glass doors that open out onto an ornate terrace.
Here, resort guests and visitors can enjoy beautiful views over the surrounding gardens and forest from the all-day dining restaurant.
Executive chef Kentaro Torii serves up home-cooked Kyoto-style cuisine and innovative Western dishes using only local and seasonal ingredients, many of which are sourced from the hotel's gardens.
Aman Kyoto's dedicated Japanese restaurant, Taka-an, honours the legacy of artist Honami Koetsu (1558-1637). Considered a national treasure of his time, Honami Koetsu was a craftsman, potter, lacquerer, and calligrapher who helped forge the culture and creative life of Takagamine – where the resort resides – by establishing the aforementioned artist's colony.
Taka-an pays culinary homage to this heritage, inviting diners to experience the perfect balance of atmosphere, design and cuisine that defines authentic Japanese hospitality. Indeed, the restaurant follows Japan's omakase dining tradition, whereby the chef creates a tailored meal for each guest.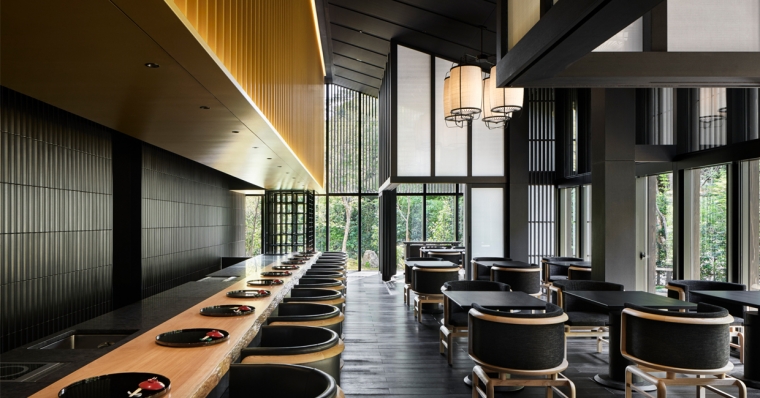 In terms of interior design, the restaurant offers a simple yet striking blend of black wooden floors and panelling with elegant curved chairs in natural wood and black upholstery. A large dining counter with chef's stations runs along one length of the restaurant, with a series of smaller tables to the other.
The Aman Spa, too, captures the natural beauty and creative spirit of its verdant environment. The natural spring water that flows underneath Aman Kyoto was a particular source of inspiration for Kerry Hill Architects and has been used to create traditional onsen bathing facilities – channelling a Japanese bathing culture dating back to the sixth century.
Elsewhere, three private treatment suites offer guests an array of therapies, making use of Kyoto Green Tea, local saké, and cold-pressed tsubaki (camellia) oil. For a truly immersive experience, guests can also partake in yoga, guided meditation and Shinrin-yoku – the healing art of forest bathing or 'taking in the forest atmosphere' – in the grounds.
The resort's 26 guest rooms, meanwhile, are situated within six standalone guest pavilions. These latticed structures are a contemporary nod to the traditional Japanese ryokan inn, and feature light-filled, minimalist interiors.
The Susuki, Nara, Kaede and Hotaru pavilions all encompass 60m2 rooms, complete with living and relaxation areas, Tokonoma alcoves and large ofuro bathtubs crafted from hinoki cypress wood, native to central Japan.
Two 'presidential suites' located in the Washigamine and Takagamine Pavilions are situated at the highest, most secluded part of the property. Named after two mountains in the surrounding national parks, they offer two en-suite bedrooms, separate living and dining areas, a kitchen and tatami room.
The refined aesthetic throughout the accommodation creates the optimum opportunity for peace, relaxation and contemplation. As is true of the resort as a whole, each material, furnishing, or adornment has its place and purpose. Though beautiful in their own right, the interiors have been carefully crafted to echo and enhance the resort's entrancing garden setting – its magic never far from view.