JOALI's much-anticipated sustainable wellbeing island retreat in the Maldives is committed to immersive and responsible travel, while honouring and respecting the local landscape, culture and communities.
"JOALI BEING is a wellbeing retreat unlike any other in the world; it is a transformative destination aimed to inspire and ignite the very deepest of mindful connections to one's self, one another, and one's environment by enhancing our relationship with the surrounding natural world, our bodies and our minds," says General Manager Özgür CengÄ«z.
"Every element of this island works together to bring to life specialised spaces, opportunities, and unique moments that lend themselves to a vast array of possibilities. The magic of JOALI BEING is that no story is previously written and no itinerary previously set. Rather, it is a place where all visitors are welcome, invited, and encouraged to pave the way for their own journey of self-discovery and renewal, enabling guests to return home feeling uplifted and inspired."
The reatreat is situated on the secluded island of Bodufushi in Raa Atoll, just a short 40-minute seaplane flight from Malé International Airport.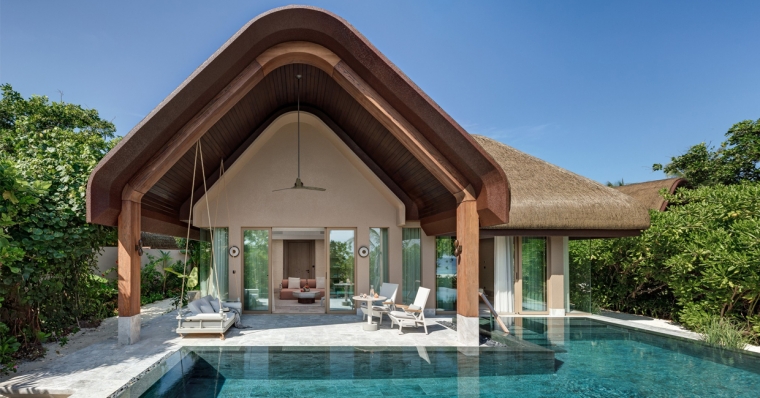 Design
The architectural concept of the retreat was guided and executed by architects at the renowned multidisciplinary design studio, Autoban, along with Atolye4N, both of which also led the design concept of sister destination, JOALI.
In an effort to align with JOALI BEING's commitment to preserving, respecting and connecting with the local landscape, the retreat was built using Biophilic design principles, and in doing so, the island's wild forest remains untouched.
The retreat is home to a total of 68 private exquisite beach and water villas, consisting of 34 beach villas and 34 water villas.
Each of the 13 villa categories comes with a private pool and a variety of special offerings such as customised minibar setups, tuned meditative balancing musical instruments, wellbeing games and more.
JOALI BEING is home to a selection of one-, two- and three- bedroom villas, with one four-bedroom villa. The unique four-bedroom private Wellbeing Ocean Residence is a fully equipped exclusive overwater villa with a magnificent uninterrupted ocean view, a wellbeing room, gym, aerial yoga facilities and a movement zone.
The distinct interiors of the guest villas have been inspired by the island's natural surroundings. Pulling inspiration from the shorelines, sea waves, shells and green textures, the spacious villas feature relaxed, flowing lines that serve as an extension of the Indian Ocean.
The Four Pillars
At the centre of the retreat's curated offerings and transformative experiences lie the Four Pillars of JOALI BEING, which were created in conjunction with Professor Gerry Bodeker of Oxford University – a Harvard-trained expert on traditional and integrative medicine and wellness, who chairs the Mental Wellness Initiative of the Global Wellness Institute:
Mind: Cultivate contentment and peace of mind through sound therapy and mind and body practices
Microbiome: Form a deeper understanding of the connection between body, mind and nutrition while building eating habits around the body's circadian rhythm
Skin: Illuminate the skin with rejuvenating therapies that draw equally from timeless rituals and the world's most advanced research
Energy: Rebalance the nervous system and optimise energy flow through intelligent movement practices and restorative therapies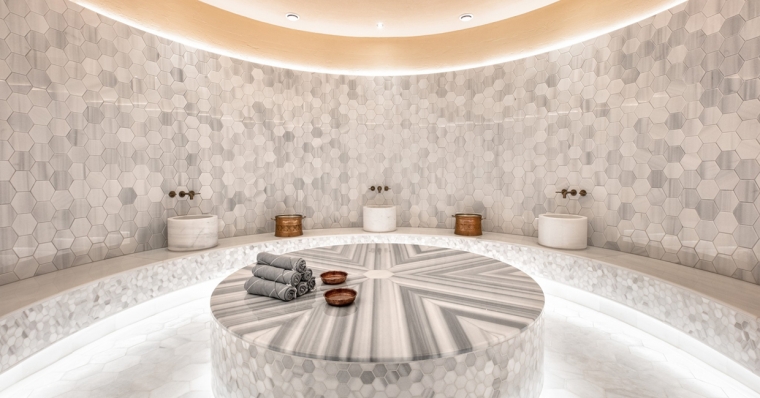 JOALI BEING features a collection of transformational spaces, along with 39 elevated treatment rooms spread across the island that are inspiring in nature to enhance the overall wellbeing journeys of guests, aid in the healing and renewal processes and provide endless opportunities for reflection, movement and growth.
Areka: Home to fully immersive wellbeing experiences, beneficial scientific therapies and diagnostic services, learning programmes, specialised therapeutic and alternative healing treatments, as well as expansive fitness facilities and an over-water meditation deck.
Core – Movement & Fitness Spaces: Dedicated movement specialists guide guests through extensive mind and body facilities, including diagnostic rooms, private training rooms, multipurpose studio, fitness room and Ocean Sala
Kaashi – Hydrotherapy Hall: Honours the tradition of healing through water, experiencing the cleansing powers of the Russian Banya, Aufguss Sauna, and the tranquility of the Sensory Deprivation Room
Seda – Sound Therapy Hall: Inner balance is restored through the healing harmony of music and vibration, created by sound healing visionary and JOALI BEING collaborator Aurelio C. Hammer
The Discovery Sound Path: The on-site, outdoor sound therapy oasis that resonates with the natural rhythms of the island
AKTAR: JOALI BEING's on-site herbology center, which is inspired by the healing power of herbs. At AKTAR, guests may address concerns surrounding the Mind, Skin, Microbiome and Energy with the resident herbalist, who specialises in preparing natural remedies using herbs, spices and essential oils. Also located in this space is a curated library as well as interactive workshops at which visitors will learn the benefits of herbal teas and learn to make natural body creams, face masks, and massage oils.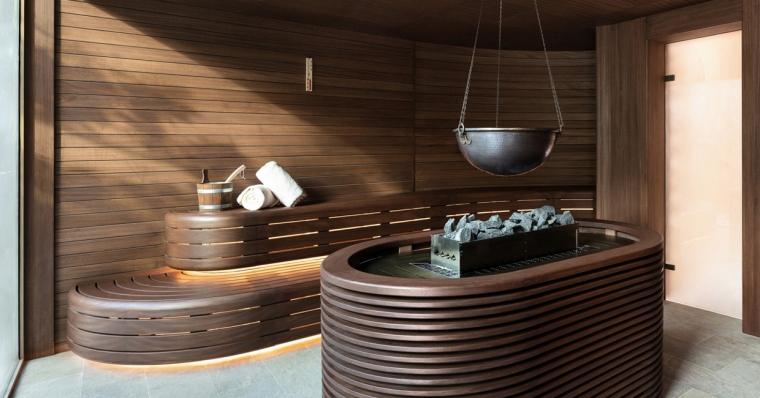 Recreation & Leisure
Offering everything from exciting water adventures, to customised nutrition programmes, wellbeing classes and more, JOALI BEING has curated a variety of activities and opportunities that enable guests to enhance their one-of-a-kind journey while at the retreat.
The Learning Centre provides a series of educational workshops and experiential classes, including learning sessions, in alignment with the retreat's belief that understanding is the key to creating and sustaining true wellbeing.
Wellbeing Classes & Workshop inspire, educate, and uplift guests, allowing them to explore mindfulness, nutrition, health and wellbeing traditions with the ample classes and workshops regularly offered by the retreat's resident experts.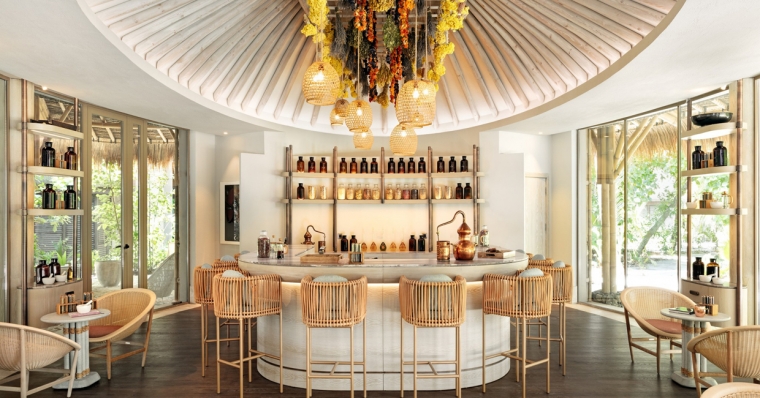 F&B
A central focus at JOALI BEING, the culinary arts take on the Earth-to-Table initiative, promising guests ingredient traceability with fresh, locally harvested food that support small farms and is sustainably sourced.
JOALI BEING's open-plan interactive dining space is complete with three signature kitchens – Plantae, serving vegetarian and vegan cuisine; Su focusing on ocean-to-table pescatarian fare; and B'Well with a signature JOALI BEING menu, including a selection of Earth-to-Table meals.
Mojo is the retreat's tropical beach sanctuary for those looking to catch one of the Maldives' breathtaking sunsets. Mojo is located on a three-layered sundeck and is an ideal spot to grab lunch and enjoy the day's end by the pool. Mojo is also home to SAI tea lounge, where guests can explore the incredible range of brews, and join tea ceremonies and learning sessions hosted by the resident tea sommelier.