Kimpton Angler's Hotel South Beach celebrates the completion of a six-year, $61m re-imagination with the opening of its new full-service restaurant, Seawell Fish n' Oyster and the renovation and redesign of the hotel's four original buildings, including those dating back to the hotel's 1930s beginnings. The original hotel buildings and bungalows complement the hotel's 85-room new addition which opened in May 2018 and houses the living room lobby, Minnow Bar, and rooftop pool and sun deck.
Located on Washington Avenue just steps from the Atlantic Ocean and the world-famous Art Deco District, the property revealed its new stunning design with the completion of its newly-constructed addition. Representing one of the few new builds in South Beach, the new wing – housing 85 guest rooms – more than doubled the hotel's inventory to a total of 132 rooms, while providing an all-new architectural space to enchant guests from the moment they arrive.
With a rich past stemming from its 1930s heyday as a private haven for true anglers, the re-imagined Kimpton Angler's is designed to serve as a place of respite and relaxation for guests seeking a getaway from the hustle and bustle of Miami, while staying close to the center of it all.  Kimpton Angler's design story was conceived by San Francisco-based interior design studio NICOLEHOLLIS and Kimpton's global SVP of design, Ave Bradley, to serve as an inviting oasis with an inimitable ambiance that celebrates Miami as a place of poignant contrast where discovery awaits.
Design Inspiration
Kimpton Angler's stirring design brings Miami's rich past forward through its play of light and dark and its mood-setting design elements, which seamlessly tie together the destination's seductive origins, citrus and tobacco agricultural heritage, and early railroad and sea-faring beginnings as a trade and cultural exchange hub with the Caribbean. Brought to life via a carefully curated collection of timeless design features, fixtures, materials and works of art presented in deliberate contrast to one another, guests are taken on a journey that promises a sense of calm within the chaos of life.
In creating an intimate refuge for guests with elevated style and a decidedly grown-up sensibility, Kimpton Angler's dark design themes, displayed in everything from textured walls to lava rock textured coffee tables and tobacco-colored accents, encourage guests to let the weight of the world fall away.
Meanwhile, the restorative powers of light found in a variety of facets, from tile flooring to indoor and outdoor furnishings, to the bright hues of sun and citrus, inspire guests to let life in. Using exquisite hand-hewn works, custom-designed pieces, and works of art from an array of masters in their craft, Kimpton Angler's appreciates uncomplicated sophistication. Its authentic surroundings are intended to soothe and engage a guest who embraces old cultures and new experiences in their worldly travels.
The Arrival
Kimpton Angler's story of high contrast begins immediately upon arrival as guests are welcomed by the relaxed calm of this cool and modern retreat. As they enter from Washington Avenue, a black and white tile floor laid in a three-dimensional geometric pattern guides them into the hotel lobby in dramatic fashion. Meanwhile, refined and raw materials used throughout its furnishings and finishes tell the tale of Miami's rich trade and agricultural history of citrus fields, railroads and shipwrecks.
Dark and natural finishes take centre stage in the lobby through the hand-woven rope drapery by Sally England. Guests are drawn further in by the lobby's Paiellette Brass Accent Wall by Devon Brady of Livework Studios that moves its fish scale-like panels effortlessly with the breeze. Equally stunning is the sculptural glass bubble and rope chandelier custom-made by Lindsey Adelman that creates yet another focal point from above.
The reception design also features an exquisitely carved wood sculpture by John Houshmand that sits impressively behind reception providing an abstract portrayal of a giant banyan tree.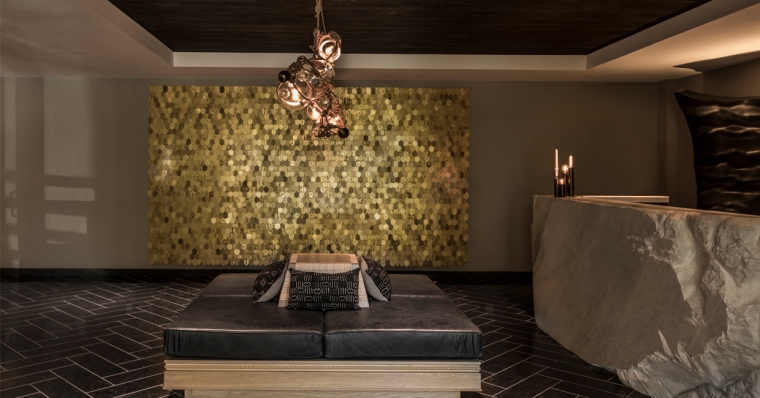 Guestrooms
With an uncommon mix of accommodations that includes one-, two- and three-storey studios, lofts, suites, villas, spa villas and poolside bungalows, Kimpton Angler's guestrooms are a study of air and light, presented in stark transition from the lobby's darker tones and textures.
As guests enter the guestroom, they are instantly charmed by the headboard made of inlaid wood panelling that extends up to the ceiling. Cobalt is the accent colour in patterns and finishes amid a neutral backdrop. Natural elements featured throughout from the woven, wicker treatment used for both the pendant bedside lights and lounge chair, to the over-sized work desk with its eye-catching, tree trunk-shaped leg, create an airy and beachy mood in each room depicting Miami's universal appeal of sun and sand since its early tourism beginnings. Large windows and balconies welcome the warming sun by day, and the bright moon at night.
The Spa rooms feature luxurious basins by leading bathroom brand Laufen, large soaking tubs and walk in showers.
Rooftop Pool Deck
Sitting atop Kimpton Angler's new wing on the 6th floor is the expansive rooftop pool deck offering panoramic views of South Beach, the Miami Skyline, and the ocean as it sits on the horizon. Overlooking the natural energy of South Beach's Washington Avenue, the new rooftop pool and sun deck provides a sophisticated space for lounging and sunbathing. Large hand-made clay planters, rattan loungers and wooden stools seductively invite guests to bask in relaxed style and comfort as they enjoy a feeling of enviable privacy and seclusion.
Meeting and Event Space
Kimpton Angler's event and meeting space totaling nearly 19,000ft2 and accommodating banquets and receptions for up to 650 guests, illustrates the brand's dedication to innovative meetings. With surroundings that stimulate the imagination via its timeless design that exudes a residential feel while connecting the mind, body, and spirit, Kimpton Angler's meeting and event space inspires endless creativity, productivity and ultimately, success.
Groups are transported to an inviting place with seating and gathering areas that encourage collaboration as they enter The Gallery, Kimpton Angler's pre-function area and meeting room corridor.
Featured works include a hanging metallic tapestry provided by Sausalito-based art consultant Julie Coyle which sits above a plush custom sofa topped by a custom black ring pendant light embellished with natural faceted raw crystals. The Anchor meeting room features textured plaster walls, an all wood floor, and large folding doors blending a contemporary living style, with a way to seamlessly transition between indoor and outdoor spaces.