The Eliza Jane is built within seven historic warehouses in New Orleans' Central Business District. Standing distinct on the outside, the properties have been internally conjoined to house the luxury accommodation, with a 2000 sq ft open-air interior courtyard. 
NYC-based architecture and interior design studio, Stonehill Taylor, was tasked with bringing this unique environment to life as a characterful and functional hotel. 
"HRI Properties, LLC, headquartered in New Orleans, is known for historic renovations in urban locations," explains Michael Suomi, Principal & VP of Design, Stonehill Taylor. "They came to us with the concept of creating a quintessential New Orleans hotel, but left it open to the design team to interpret what that meant for the location."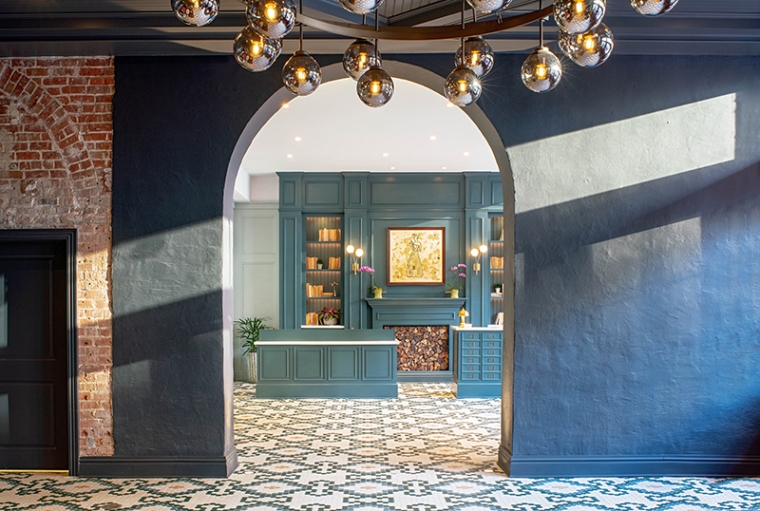 The Eliza Jane front desk
During the firm's intital research, Stonehill Taylor looked into the previous occupants of the warehouse, hoping to weave them into the interior narrative. When they unearthed the fascinating story of one particular occupant, however, the team felt compelled to honour her legacy more substantially. 
Front desk detail
"Inspired by the beauty of each historic building, the design team intended to reference each of its original occupants: The Daily Picayune newspaper, as well as Gulf Baking Soda company, Peters Cartridge shop, and Peychaud Bitters factory," says Bethany Gale, Senior Interior Designer, Stonehill Taylor.
"Additional research revealed one standout tenant, Eliza Jane, publisher of The Daily Picayune. The first female newspaper publisher in the country and a larger than life New Orleans figure, she has evolved into the namesake and persona of the hotel.
Upon arrival, guests enter into an intimate yet extravagant lobby of evergreen paneled walls, accented by a vibrant, large format hex-tiled floor.
Acting as the main public space, a 60ft high atrium creates layers to the arrival experience. Abundant natural light and lush greenery soften the original exposed brick and slate-coloured plaster walls here, creating a conservatory feel.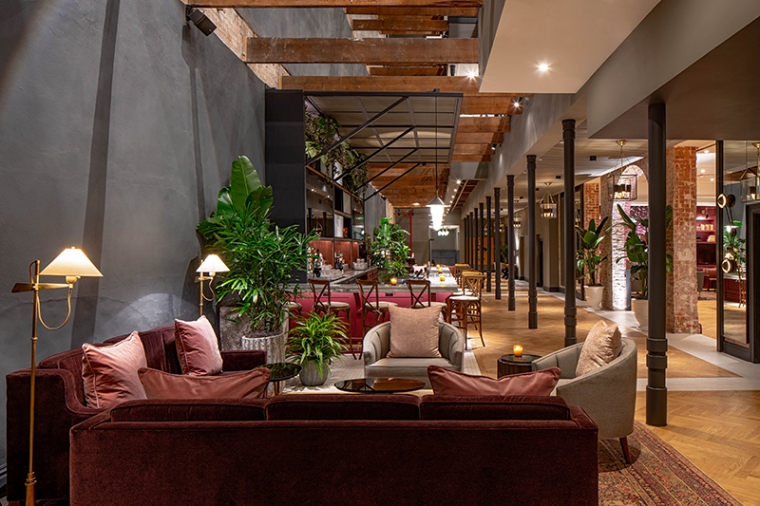 The lobby and the Press Room bar
A bar and lounge area offers the perfect gathering spot for guests, featuring a marble topped bar, sheltered by a foliage-entrenched canopy, and mismatched jewel tone and velvet seating.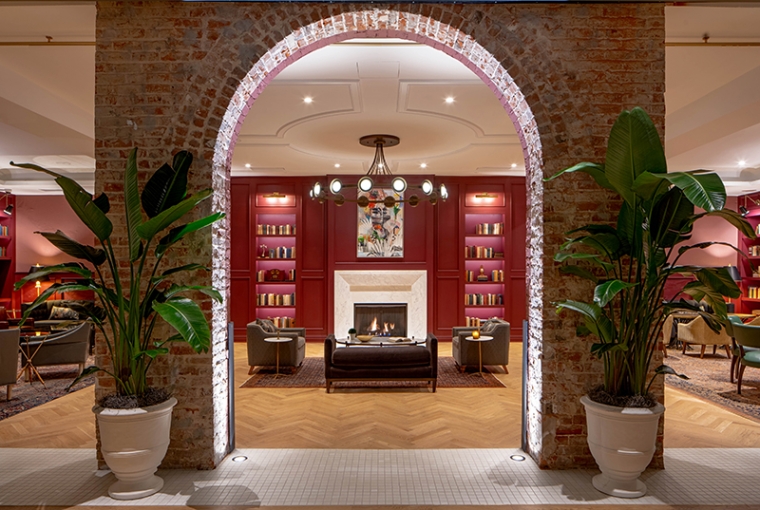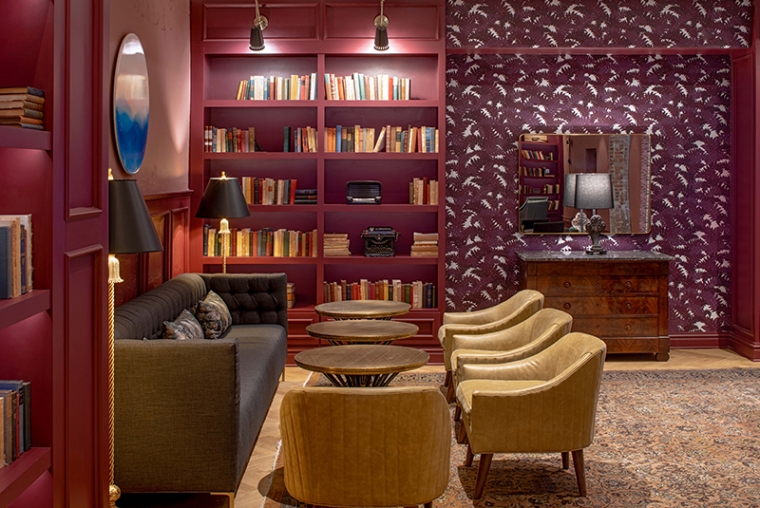 The Press Room lounge
"You'll notice the colour palette has a feminine undertone without being overly 'girly,' which is our direct nod to Eliza Jane. The bold floral accents and jewel tone fabrics are a modern twist on something you might see in a quintessential New Orleans home."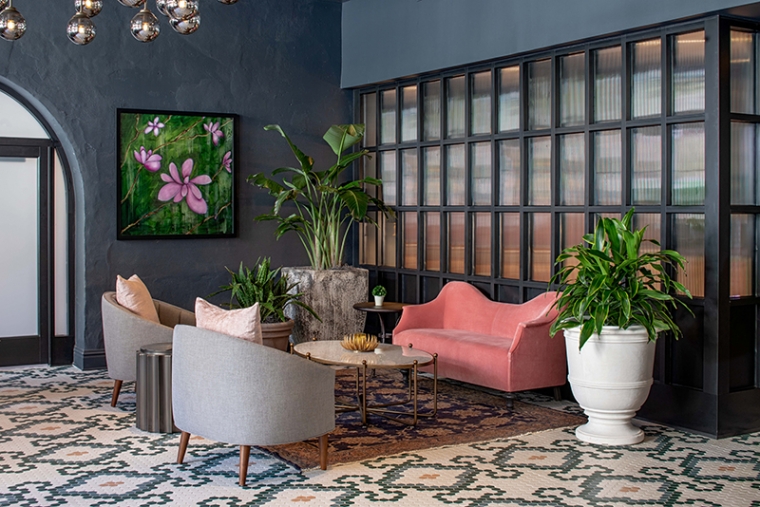 The entrance lounge
Artful references to Eliza's role as head of The Daily Picayune can be found throughought, from the custom designed wall murals in the guest rooms, to locally sourced vintage typewriters and even the hotel's stationary, uniforms, and other hotel collateral. 
From Stonehill Taylor's perspective, it was crucial that The Eliza Jane's interior should weave a rich, multi-faceted narrative that gradually unveils itself to guests.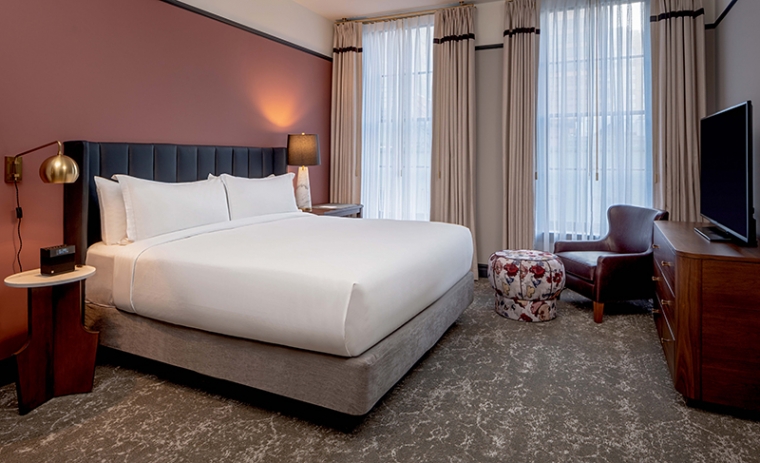 The Eliza Jane Publisher's Suite
When guests first enter the hotel, we want them to feel that they are stepping into something that is simultaneously fun, formal, relaxed, vintage, and also modern," explains Michael Suomi, Principal, Stonehill Taylor.
"This may sound contradictory, however we have so many twists and turns and unique public areas in this property, so we had many 'chapters' to telling this story. It is definitely a place to be explored, and like New Orleans itself, we want our guests to feel like they have to come back because they didn't get to see everything the first time."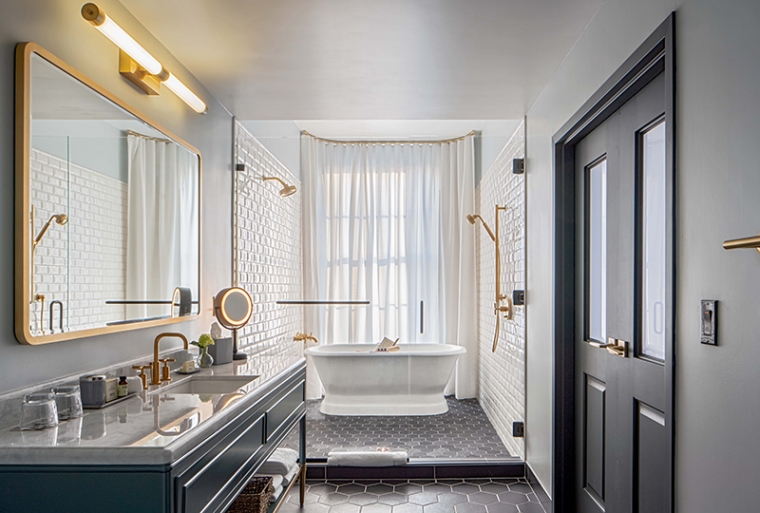 The Eliza Jane Publisher's bathroom
Next to the bar area is The Press Room; an intimate, living room inspired lounge with bookshelves filled with sourced antiques, books, typewriters, and other accessories.
The Eliza Jane's on-site restaurant, Couvant, artfully combines classic New Orleans style and French flair within an industrial setting.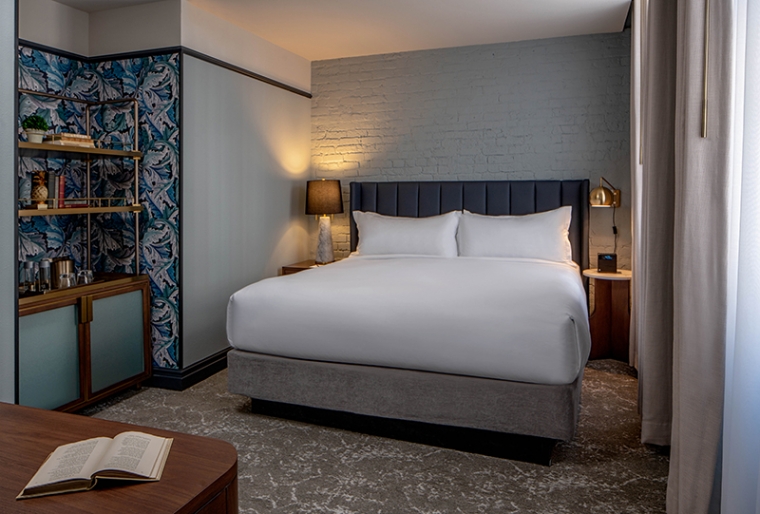 "Couvant, is housed within the original bitters factory that manufactured the famed Peychaud Cocktail Bitters, among others," explains Tory Knoph, Senior Interior Designer, Stonehill Taylor.
"The focal point here is a sweeping 300-square-foot bar made of oak and repurposed newel posts. Additionally, a small, quartz topped oyster bar decorated in black-and-white tile stands as another nod to the brasserie's French inspiration.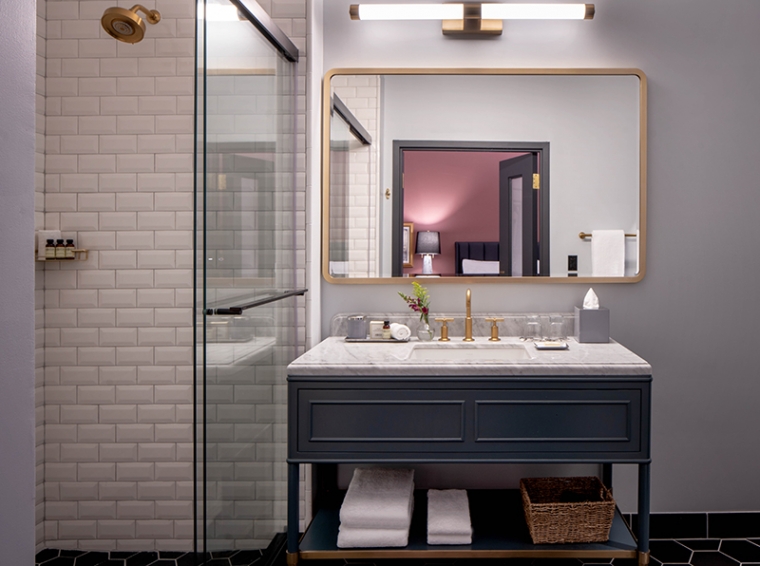 A shower bathroom
"The historic bitters factory reveals itself in exposed brick walls behind the bar and in the restaurant's private areas, including a private dining room that opens up to outdoor seating."
The standout element of the project is perhaps the interior courtyard, which joins the restaurant and hotel. Inspired by the influence of Spanish architecture and design in New Orleans, the courtyard is encircled by the original brick walls and filled with overgrown foliage, antique pots and tabletops, with various groups of seating in vibrant patterns and colours.
At its heart is a black-and-white patterned cement tile fountain, completed by a custom Venus-inspired sculpture by local artist Brent Barnidge with a neon "Bisous" sign above.
A standard bedroom with two Queen beds