The 16th Century Red Lion inn in Burnsall, within the beautiful Yorkshire Dales and part of the nationwide spa hotels and inns group Daniel Thwaites, has unveiled the transformation of its neighbouring historic manor house accommodation following a six-figure renovation.
Taking five months to complete, the inn has worked in partnership with interior design firm Sacha Interiors to deliver a project that is grand and plush in design while remaining sensitive to the historic fabric of the manor house building, which dates back to 1883.
The manor house's former eleven bedrooms have been converted into eight larger spaces, with guests now able to choose between three family rooms – each with two bedrooms – four signature doubles and one large feature room.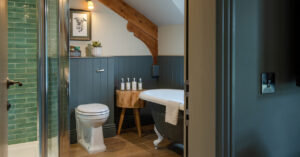 Delivered alongside commercial renovation specialists Wilkinson Group, some of the new bedrooms boast breath-taking views out to the nearby River Wharfe.
The bathrooms include opulent tiling, industrial-style fixtures and fittings and relaxing hues, while feature room guests will also find a luxurious freestanding bath.
Incorporating a modern countryside aesthetic with a hint of Scandi, the design combines rustic oak furniture with pops of colour, giving the new rooms an eclectic mix of furnishings throughout.
The refurbishment also included fully re-wiring and re-plumbing the building, installing new windows, doors and internal walls throughout, as well as re-pointing works.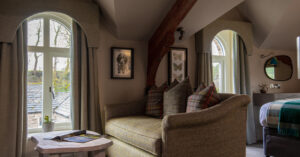 Commenting on the renovation, Steve Martin, Operations Director at Daniel Thwaites, said: "The building is a real focal point for the Burnsall community, so we've worked carefully with our contractors and interior designer to ensure the renovation not only helps preserve the historic building, but also enhances our guest experience by making stays in our manor house even more welcoming. "The work has formed an integral part of Daniel Thwaites' long-term plan for the inn since adding the property to its portfolio in 2021. We're thrilled to have reinvested back into the manor house and see this project come to life."