The Ritz-Carlton, Grand Cayman re-opened in December 2021 after an extensive renovation by award-winning interior design studio, Champalimaud Design. Responsible for revamping the public spaces, guestrooms and suites of the resort, the studio has honoured the island's rich history and natural beauty in their design renovations.
The framing intention behind the design was to create a strong sense of place, reflecting the lush landscape of the island. This is evident as soon as guests enter the lobby and reception area, with an abundance of natural materials and colours used throughout the resort – from lush greens and beach-inspired whites and beiges, to deep blues evocative of Cayman's night sky.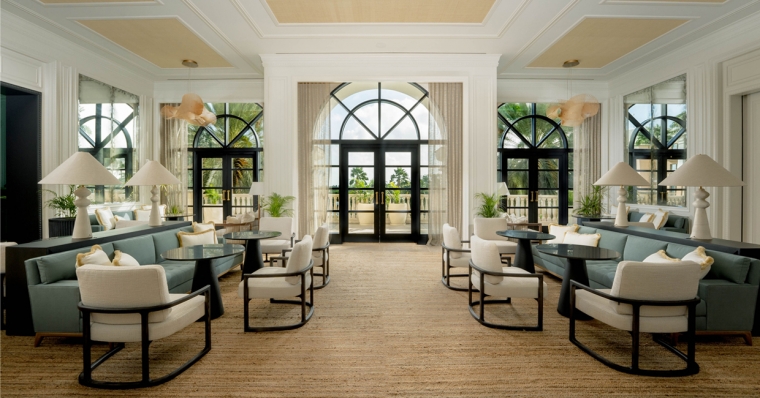 The silver thatch palm, which is the national tree and endemic to the Cayman Islands, has become an important motif within the hotel. Used to make rope, the palm was a vital export that supported the economy of the island, and today represents the ingenuity of the people. This symbol has been artfully interwoven in the hotel's design, from influenced the choice of the pendant lights in the lobby lounge, the collection of  baskets which form the chandelier in the Silver Palm Bar, the biophilic carpets in the lobby, corridors and stairwells and even the woven texture of the headboard in one of the suites.
The palm also inspired the rich green colour palette used in the Silver Palm Bar, a cigar and cocktail bar that celebrates Caribbean elegance, which features soaring arched windows that provide unbeatable views of waterways and fairways with lush tropical blooms.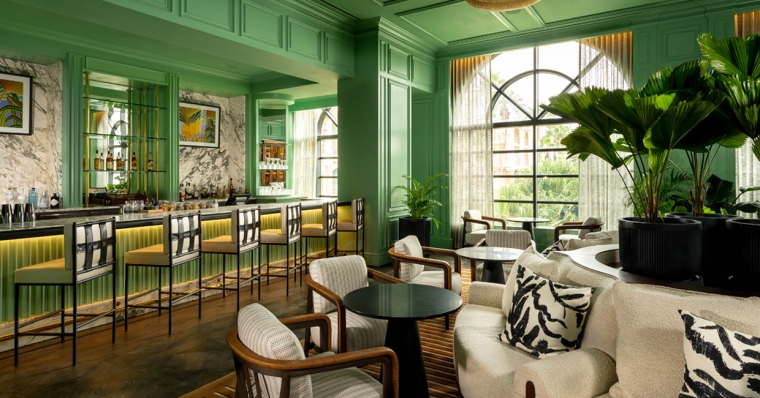 Cigars and rum, exports for which the island is widely known for, are represented in the custom-built hardwood cabinets by local designer Martlet Design, meanwhile. The studio's designs are harmonious with the island's environment, culture, and its people.
"The public spaces are rich with art by local art and artisans, as well as custom furnishings from surrounding talent on the island," continues Courtney. "The entire hotel is adorned in large-scale, impactful pieces that help transform the spaces entirely. Selected specifically for each location in which they reside, the interiors are harmoniously reflected within each."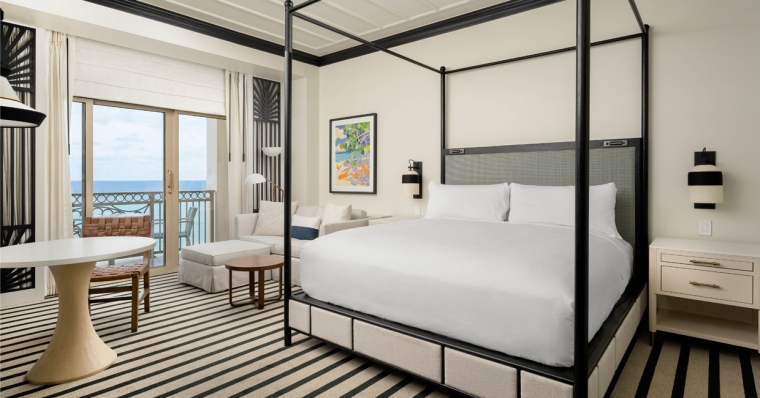 In addition to the public spaces and guest accommodation, the resort's meeting spaces have also been refreshed. These palatial spaces were reimagined in luminous neutrals from cream to champagne with rich, warm accents on the soaring ceilings and rope detailing in the wall coverings.
The pre-function area evokes a classic thatch pattern while the ballroom deconstructs those designs into a beautiful field of woven elements. Light fixtures transpose undersea life to the ceiling, with sculptural coral colonies of organic forms with each dome a unique shape, just like in nature.