Built in 1899 in the Renaissance Revival style, Walker Hotel Tribeca is a new luxury boutique hotel located in New York City's historic Tribeca neighbourhood. Situated on the south side of Lower Manhattan's Walker Street, taking over the entire 175-foot block-front with three street frontages – Broadway, Walker, and Cortlandt Alley – the 10-storey, 171-room property is owned by hospitality company Bridgeton.
Within the hotel are six distinct food and beverage venues, including a rooftop bar, a ground floor communal lobby and lounge, a cellar reading room, a subterranean cocktail bar, a Blue Bottle coffee shop, and a full-service restaurant by an award-winning chef.
Originally conceived as a button and ribbon factory by architect William H Birkmire, Walker Tribeca marries New York's vibrant energy with the spirit of its timeless, Golden Age past through a mosaic of lasting and quintessential design elements paired with modern furnishings. The hotel offers luxurious rooms with focused detail, public spaces thriving with energy, a restaurant from a dynamic culinary voice, and a rooftop overlooking an ever-changing skyline. Its sprawling lobby is an architectural feat paying homage to both the neighbourhood's legacy and progression – featuring a mix of iconic mid-century and classic furniture, lush textiles, and contemporary light fixtures.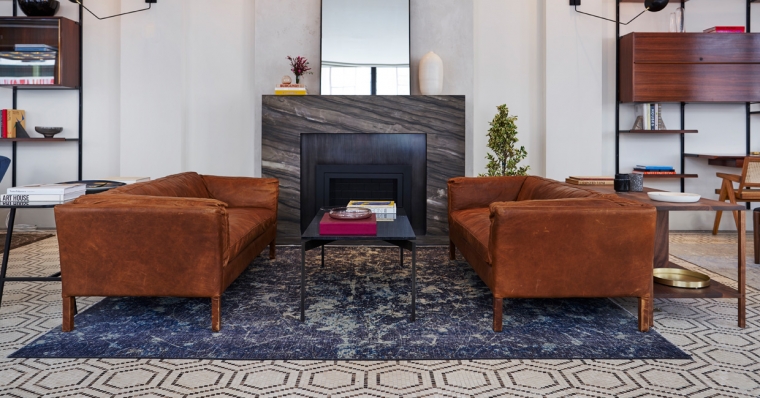 Upon entry, guests are offered the choice of a traditional check-in downstairs or a more social check-in at the lobby above, flanked by a marble bar, marble fireplace and a warm rosewood library with Borsani shelving. Seating throughout the lobby includes Mogensen sofas, Pierre Jeanneret loungers, and Philippe Bestenheider's Lu V chairs, which have all been upholstered and rei-magined in a modern palette of Schumacher velvets, ikats, and linens.
Drawing from the distinctive character of the neighbourhood and its history, each of the 171 guest rooms has a timeless and progressive charm with efficient footprints, high quality finishes, and elevated details. Cosy rooms indicative of old New York boast marble baths, rain showers, tobacco leather professor chairs, herringbone wood floors, and crisp linens. The property features many distinct room types, ranging from lofted queens to corner kings, all featuring large loft-style windows offering inspiring views of the Midtown or downtown skyline.
Historically known as being Manhattan's industrial hub, the hotel is centred in the lively neighbourhood of Tribeca, which in recent years has experienced an immense shift-the bustling cultural scene is now home to renowned restaurants, exciting nightlife, high-end shopping, scenic parks along the Hudson River, and an internationally-acclaimed film festival. Today, the neighbourhood is also quickly gaining a new status as New York City's art mecca, with a wave of high-profile art galleries such as Bortolami, Alexander and Bonin, and James Cohan leaving the famed Chelsea neighbourhood for Tribeca's chic and spacious lofts.
Located within The Walker Hotel, the 45-seat full-service restaurant will serve seasonal fare from an acclaimed New York-based chef. The vegetable-forward menu is intended to appeal to both locals and the growing population of wellness focused, eco-conscious diners in the New York area and beyond.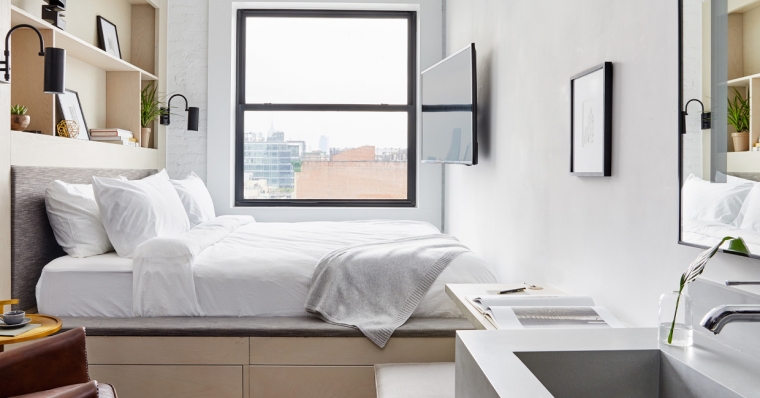 Designed by Craig Shillito of Cycle Projects, the minds behind beloved institutions such as Lilia and abcV, the space features a light-filled dining room with an elegant, modern aesthetic, woven together by a palette of soft earth tones and natural materials like stone tile, marble and plaster. During the day, the restaurant is open to The Walker Lobby, welcoming guests inside for breakfast and lunch. In the evenings, the restaurant transforms into a more formal dining experience with a dedicated entrance in Cortlandt Alley.
The Walker Lobby serves as a 50-seat lounge, open day and night. An energising environment, the Lounge is a versatile area to read over an afternoon coffee or socialise. On Friday and Saturday nights, a DJ spins music from 9pm onward, making it ideal to grab a cocktail and experience a taste of NYC nightlife.
For guests looking for a quieter counterpart to the bustle of the Lobby, the 24-seat Reading Room allows guests to order an espresso drink, cocktail, or lounge menu item from a server and work peacefully in the library-like setting. The Reading Room can also be rented out or split into two rooms for events.
Located two grades below ground in an excavated room and vault, the subterranean cocktail bar is an intimate space envisioned by John McCormick Design, who is behind notable hospitality projects such as Maison Première and Smith and Mills. An architectural relic from the late Victorian Era, walking into the bar feels as though one has walked into a New York City time capsule. The speakeasy offers an extensive menu of cocktails from the beginning of the 20th century accompanied by an assortment of provisions.
The Walker Terrace, on the 11th floor rooftop, offers commanding views of NYC to the north, and a fascinating corridor view down Broadway to the south. With a capacity for 160 people, the Walker Terrace will celebrate its fundamental attraction of both celestial and earthly views. The cocktail menu will make playful nods to astrological and navigational allusions.
A classic coffee shop and New York favourite, Blue Bottle will serve hand-crafted beverages to guests and local Tribeca residents daily from the hotel lobby.
"Walker Tribeca has been a really exciting project," says Bridgeton's Atit Jariwala, "especially looking back at how our plans have changed over the years as we discovered new opportunities and challenges. Working with a building that is 120-years old, one of our challenges with redesigning the interiors was that every corner of the building is slightly off 90° which was to accommodate the block layout back from when Canal Street was an actual canal."
Images Read McKendree and Adrian Gaut