Portuguese hotel group AlmaLusa will be launching their third hotel, AlmaLusa Alfama, this September.
The new 25 room property will sit in the heart of Lisbon, in the charming Campo das Cebolas square, less than a 10-minute walk form their original and oldest boutique hotel, AlmaLusa Baixa/Chiado.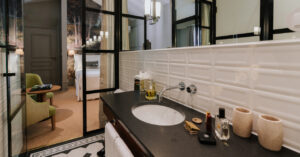 AlmaLusa Alfama combines elements of 12th century architecture with a contemporary, Mediterranean flare. The hotel provides an idyllic, cultural location with easy access to everything Lisbon has to offer; only a short walk from the main neighbourhoods, attractions, fado bars, viewpoints, shops and restaurants – right next to the Tagus riverbank, close to the majestic Cathedral (Sé de Lisboa) and the not-to-be-missed Praça do Comércio.
Guests will be able to wander over to AlmaLusa Baixa/Chiado and enjoy dinner at their stylish restaurant Delfina, serving traditional Portuguese cuisine. For those looking for a few days away from the hustle and bustle, AlmaLusa Comporta (newly opened in November 2022) is located only 80 minutes' drive away in one of Europe's most popular beach destinations – often cited as 'Europe's Hamptons'. This more rural hotel is surrounded by rolling rice fields, pine forests and stretches of white sandy coastline. The perfect antidote after a few days exploring Lisbon's colourful corners and cultural sites.  
AlmaLusa Hotels renovates local buildings, centrally located, in a boutique hotel concept, with a profound respect for each destination's memories, traditions, and heritage. Contemporary elements are introduced, with a concern for technological modernity and the provision of a customised service.
AlmaLusa Hotels believes in authentic travel experiences. The brand's properties are small in size, for a cosy and intimate feel. Rooms and public facilities feature local and national products and handmade decorative objects crafted by local artisans, for an authentic Portuguese experience. Food and beverages are made with the freshest in-season ingredients, locally grown. A curated selection of activities and local experiences is also made available to guests.
AlmaLusa Alfama will continue the tradition of service that has been a hallmark of the brand, in Mediterranean-inspired decor with Portuguese products and the most modern technology available to guests and customers.