This new 287-room hotel was designed in partnership with longtime Ace collaborators Roman and Williams, who shaped the building's facade and interiors, and Stonehill Taylor, who completed the architecture.
Located in Boerum Hill on the cusp of Downtown Brooklyn, the hotel stands above the ever-evolving intersection of everything: a geographical Venn diagram of intersecting energies, from the tree-lined streets and brownstones of Cobble Hill and Carroll Gardens to the art and culture clusters of Fort Greene, and all the way down to the restless East River.
"We've been building toward Ace Brooklyn for years; the entire city has reimagined itself several times over since we started. That's exactly the spirit we've worked to mirror in every corner of our new home – the inexhaustible ingenuity that stands as the borough's only constant. We're lucky enough to have landed at the junction of so many rich and inspiring neighborhoods, and hope to provide a new and inviting sense of place for our guests and neighbors to call home." – Brad Wilson, President, Ace Hotel Group
Open, spacious and welcoming, the hotel's design nods to Brooklyn's complex fabric of communal and creative spaces, with an animated public lobby and indoor-outdoor portals that ease into the city's edges. The guest rooms pair floor-to-ceiling windows with original artwork by local fibre and textile artists – with some higher floors offering a 360º panorama of Brooklyn, Manhattan, Staten Island and the Statue of Liberty.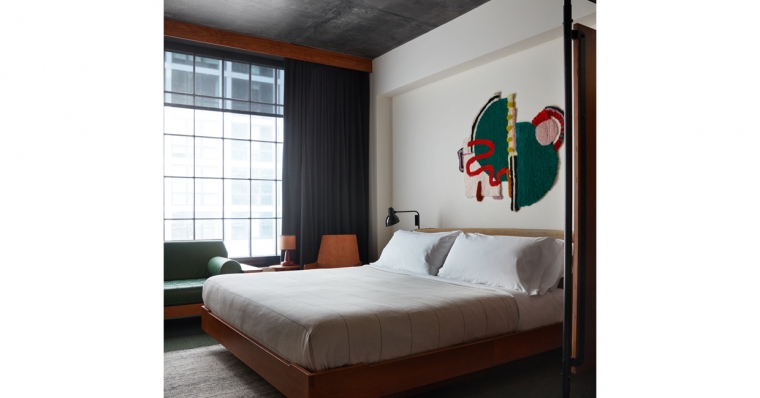 Ace Hotel Brooklyn is the third design collaboration between Atelier Ace and Roman and Williams, following Ace Hotel New York and Ace Hotel New Orleans. Ace's second-only ground-up build, the hotel's facade and interiors are inspired by the sprawling egalitarian promise of the borough – from the industrial grit of its shipyards to the neo-expressionist complexity of Basquiat. Roman and Williams looked to traditions of studios and workspaces, embracing the purity of handcrafted expressions in every area – from massive timbers in the lobby, to the custom tile murals in the lavatories, the poured in place concrete structure of the building, plus a collection of furnishings created uniquely for this project.
"For our third collaboration with Ace Hotel, Roman and Williams created both the building and the interiors for Ace Brooklyn. "We chose to embrace a governing principle of purity and artistic spirit in the building's facade and the spaces within. We employed a philosophy of primitive modernism holistically across the project. This highly artistic approach drove us to use construction methods and materials with honesty. This is evident in everything you touch and see. This undecorated and tactile spirit expresses a radical transparency in its approach to the design of Ace Brooklyn." – Robin Standefer and Stephen Alesch, Roman and Williams
Ace Hotel Brooklyn will open late Spring 2021. acehotel.com/brooklyn
Sketch: Stephen Alesch, Roman & Williams
Images: Stephen Kent Johnson