BILL&COO Coast Suites, the adults-only shoreside retreat on Mykonos, has unveiled a new look for summer 2023 with the opening of 10 new Grand Coastal Suites, the Grand Coastal Villa, and a reimagined beachfront pool.
The suites are an extension of BILL&COO Coast Suites, where barefoot luxury comes to life on 10 acres of fragrant gardens and shoreline. Nestled in Agios Ioannis Bay, every Grand Coastal suite will feature a private infinity edge pool, an expansive terrace dressed with sun loungers, a sheltered dining area and sweeping
vistas of the island of Delos and the Aegean.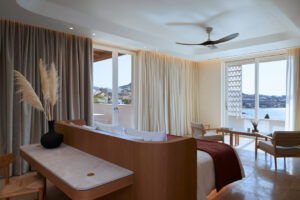 The spacious and airy accommodations, averaging 50 sq. metres, complemented by BILL&COO's personalised and relaxed hospitality style, will make guests feel right at home. The 10 suites can also be seamlessly connected for larger parties, transforming into one standalone villa, ideal for families and groups.
This summer, BILL&COO will also debut the first Grand Coastal Villa, a chic living space of 647 sq.metres, with four bedrooms, a large terrace, private infinity pool and a dining area overlooking the panoramic coastline. The villa and suites offer contemporary Cycladic interiors, with white-washed spaces, curved walls and earthy tones lending a modern beach house aesthetic and bringing a sense of calm and tranquillity to every corner.
As one of the only hotels on Mykonos with its own private Beach Club, the location of the Coast Pool Bar is unparalleled. Situated directly on the beachfront, the space has undergone a complete renovation, with a 180 square metre infinity pool – allowing guests to step straight from the shade onto the sand – Cycladic
architecture and views of the endless Aegean horizon.
Already considered an epicurean hotspot thanks to BeefBar Mykonos, guests staying at BILL&COO Coast Suites can also enjoy new flavours this summer, with the opening of a new Mediterr-Asian restaurant concept, COOZEST, as well as visiting nearby BILL&COO Suites and Lounge (just 7 minutes drive away) for an
unforgettable evening at the renowned Gastronomy Project by Chef Ntinos Fotinakis.
For more information on BILL&COO Coast Suites, visit the website.