Eager to fill a gap in San Juan's hospitality landscape, Condado Palm Inn commissioned V Starr to transform its eighty-eight guest rooms and corridors with a renewed sense of place.
The redesign, led by V Starr's Design Director, Holly Nixon, fostered a reinvigorated identity with a vibrant palette and whimsical character to round out a playful, sophisticated retreat in the heart of Condado. The new double queen and king guest suites offer a captivating getaway catered to Condado's vibrant energy, with special considerations as its business sect holds steady.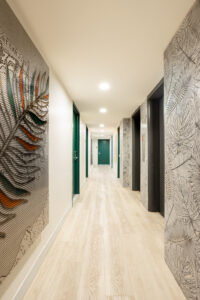 Erected in the 60s, the hotel spaces entrusted to V Starr were simple and lacked connection to the locality.
Today, each of the eighty-eight suites not only offers pinnacle accommodation but also becomes a portal to the heart of the island itself, enveloping guests in its vibrant allure from sunrise to sunset. The design team found inspiration rooted in the essence of Condado to seamlessly unite the property with its coastal surroundings. Paying homage to the island's resplendent sunsets, a blend of palm green, teals, blushes, and peaches harmoniously mingles with organic wood and rattan elements, echoing the spirit of the hotel's moniker. Custom furnishings, featuring curved edges and scalloped silhouettes, infuse the hotel's 1960s origins with a contemporary retro elegance. Given the climate's humidity, colour-block painted walls and palm-adorned drapery bestow a touch of flair in lieu of wall coverings.
In crafting suites catered to both leisure and business travellers, V Starr employs design principles that keenly anticipate the ever-changing needs of Condado Palm Inn's guests. Custom furnishings embrace functional elegance, featuring dedicated work desks and vanities. Set against a backdrop that thoughtfully encapsulates the charm of San Juan, these elements offer a harmonious balance between form and function. Sumptuous velvet headboards seamlessly integrate task lighting, while bespoke palm lamps and mirrors meld luxury and practicality. From work to play, guests are consistently enveloped in Condado's charisma.
Guests are guided to their rooms through freshly conceived and artfully crafted corridors. Subtle yet impactful coral and deep palm green accents allude to the lively escapes that await them. The halls' tempered take on the Palm Inn's exuberant identity stifles the total awe that accompanies guests' first step into their suites. As visitors depart and return, they are enveloped in a serene atmosphere with an undercurrent of adventure, ensuring an indelible and complete experience throughout their stay.
V Starr's revived identity for Condado Palm Inn yields an enchanting refuge that navigates its demographic shifts with timeless elegance. Transforming what were once nondescript spaces into veritable canvases of San Juan's essence, the design honours the hotel's namesake and its coastal context, meticulously weaving the tapestry of the island through an interplay of opulent colours and textures. This metamorphosis serves as a testament to V Starr's artful ingenuity and refined design philosophy, culminating in Condado Palm Inn proudly earning Hilton's esteemed Tapestry Collection banner—a resounding validation of its newly attained pristine rank.