The Beverly Hills Hotel Spa will reopen its doors on February 5, 2021, after seven months of extensive refurbishment and redesign. Christopher Cowdray, Chief Executive Officer of Dorchester Collection, appointed internationally renowned design firm, Champalimaud Design, to oversee the thoughtful restoration.
The new design of the iconic spa evokes a sense of serenity while maintaining the playful attitude and chic sensibility that is The Beverly Hills Hotel. Notable changes from the redesign include the relocation of reception from its former home in the promenade allowing for a private check in and check out to enable a more dignified spa experience; retail vitrines are now prominently on display in the promenade filled with luxury spa product; and a relaxation room has been added for guests to enjoy before their treatments.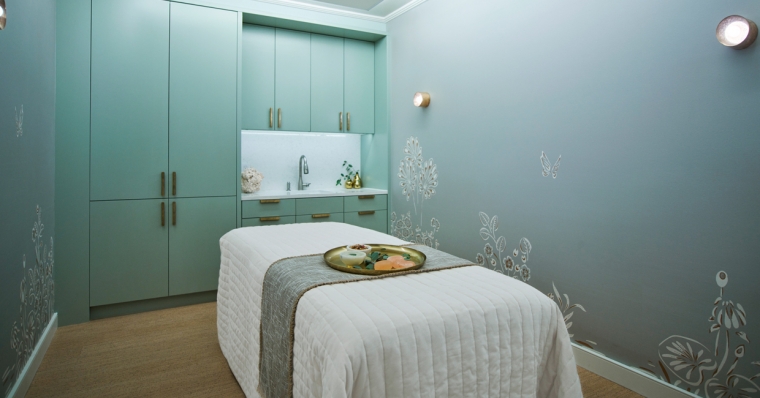 The spa will feature four treatment rooms for body and facial therapies and one duet suite that can accommodate two guests at the same time. Also new to the spa will be a nail suite, including two pedicure chairs and a manicure area featuring natural light from the citrus garden. The locker rooms will have steam showers and other spa amenities to help unwind and decompress. All treatment tables are equipped with warming heaters and a comfortable cushion system that envelopes the body.
"The fresh and stylishly elegant new Spa at The Beverly Hills Hotel has brought a new, youthful and cheeky personality to the overall hotel experience. It has been a joy to develop this calming new gem for the hotel and its loyal clientele." says Alexandra Champalimaud, Founder and President of Champalimaud Design.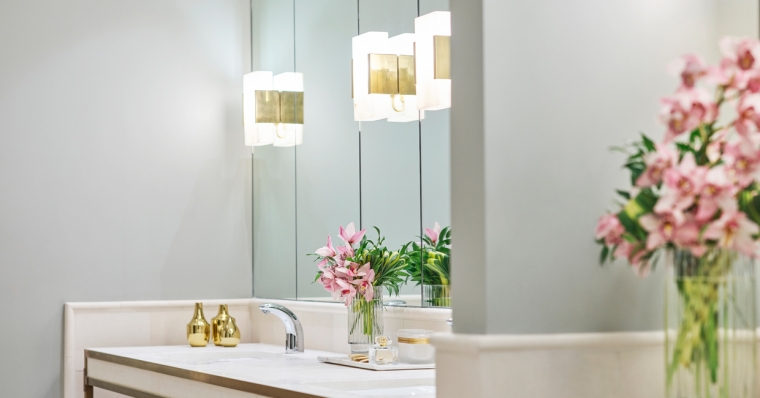 Each of the spacious treatment rooms are covered in a unique wallcovering, custom designed with Fromental to depict the vivid flora & fauna of California. This theme continues through to the reception, nail treatment room and relaxation lounge spaces where the hotel's signature banana leaves have been layered into the design of the wallcovering. Across the reception, lounge area and nail treatment room, a striking deep blue color is prominent, inspired by the precious stone, Lapis Lazuli. A subtle cream and gold brick pattern wallpaper is recurrent when moving between the spaces as well as a stunning carpet that results from a collaboration between Champalimaud Design and TRC Lab.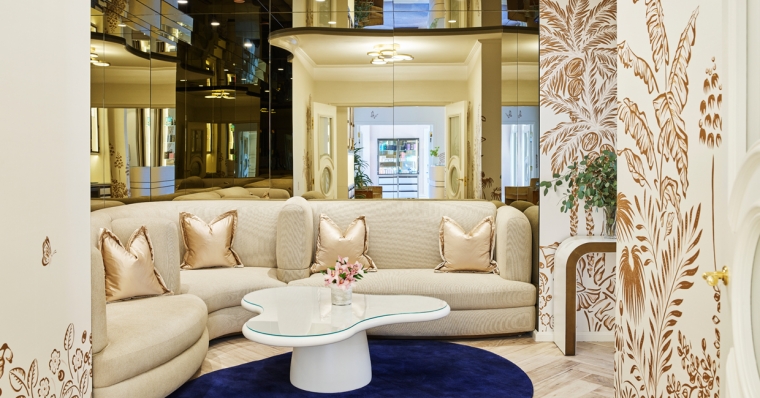 "We are very much looking forward to providing our guests with an enhanced spa experience reflective of our ultra-luxury standards," says Edward Mady, regional director and general manager. "Alexandra Champalimaud did a wonderful job incorporating the hotel's iconic design scheme in a subtle yet striking way, allowing us to stay internationally relevant with the next generation of spa guests," he adds.
The spa embraces advanced technology, natural luxurious ingredients and internationally-inspired wellness rituals to provide a range of exceptional treatments. Over 20 product lines will be featured throughout the spa menu, including Natura Bisse, NuFace, Valmont, UMA, Skin Authority and Knesko Skin.
dorchestercollection.com/en/los-angeles/the-beverly-hills-hotel/spa/