I'm sure I'm not the first person to write that UK hospitality has been through an incredibly tough twelve months. However, in spite of the considerable challenges faced, we've seen some amazing courage, initiatives, and solutions to problems and ideas from the sector which will help it recover.
Whilst there is an understandable degree of realism and pragmatism from operators and investors, there is also a refreshing sanguinity which is going to help hospitality bounce back more quickly. Minds are already focusing on what lies ahead and the need to attract custom in a post-pandemic landscape will be fiercely competed.
Aside from all the F&B offering, owners and managers will be looking to maximise their space, attracting as many drinkers and diners as possible, whilst adhering to the inevitable social distancing guidelines.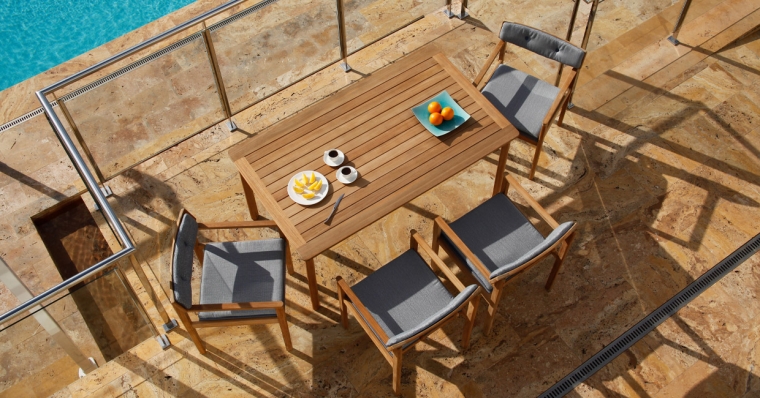 Our recent conversations with hospitality-specialist interior designers, confirm a considerable amount of thought has turned towards the exterior of the establishment. With interior space at a premium, any available outdoor space, from beer garden to carpark, will be under scrutiny to see how it can be used to increase covers.
Of course this has fostered a good deal of creative thinking, and we predict a number of outdoor design trends are set to dominate the 2021 market.
All year al fresco
Many operators will be looking at clever ways to enhance their outdoor areas beyond the essential tables and chairs to make these spaces weatherproof. As such, installing heaters and investing in cosy blankets made from natural fibres to keep customers warm and increase dwell-time will no doubt be a prime consideration. Outdoor fire pits, such as the Neolith® neocube-o, look attractive and create a fantastic congregational ambience.
Further, outdoor spaces can be zoned. For restaurants this might be two sections, one for seated dining, the other, more casual for drinks and lighter bites. At hotels, a recreational area for lounging and relaxing could also be incorporated.
Green and Pleasant Land
In line with changing consumer tastes and trends, a number of establishments are becoming more eco-aware, adopting a sustainable approach when looking to refresh or enhance outdoor furniture. We've noticed a number of customers asking important questions regarding the sourcing of raw materials, and how the furniture is manufactured.
Natural wood from sustainable sources will always be a good, eco-friendly option and we've noticed a resurging interest in teak, particularly in a mixed application with powder coated aluminium or stainless steel frames. Simultaneously, we're noticing a gradual move away from unsustainable, woven plastic furniture which looks cheap, disposable and not reflective of evolving attitudes towards the environment.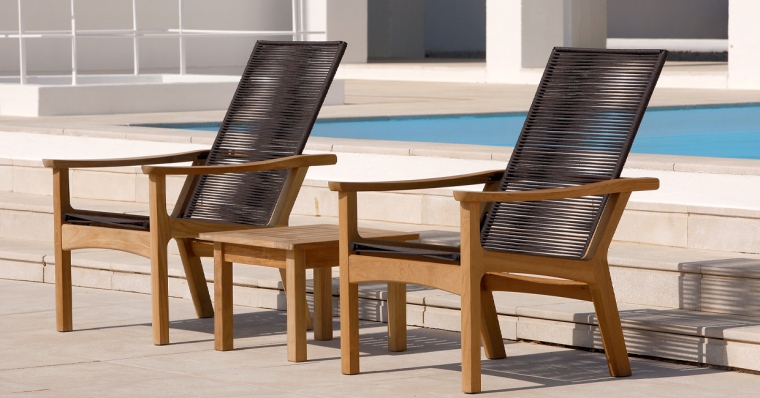 A sense of luxury
As we emerge from COVID-19, visiting hospitality establishments will be an exciting and long-awaited experience for many, following a year of limited and essential travel only. It's likely expectations have soared and some may even have more money to spend as a result of a year spent predominantly at home. No doubt we'll see a number of hotels, restaurants, pubs and bars create a luxurious environment with wow-factor, spoiling guests and making the experience the best it can be to drive repeat business.
Small but significant
Some will be drawn to a more minimal, spare aesthetic when designing their outdoor spaces to cater for post-pandemic clientele. Often less is more and quality furniture with clean lines, complemented with a few, carefully curated statement pieces, can be remarkably effective when looking to establish an atmosphere.
For those interested in this approach, we would advise opting for a pared-back dining set with some more elaborate seating options, like the timeless Sissinghurt or Rothesay benches, dotted around to inject a little extra character.
We will also see more muted, 'natural' style emerge, particularly for furnishing fabric. Much in line with the drive towards sustainability, organic grass greens, smooth stone, earthy ochre and creamy canvases will dominate colour palettes in 2021. However, we've also noticed a growing interest in certain strong colours such as inky blues, vivid indigos and mimosa yellows, perfect for those looking to make a bigger statement with their outdoor furniture.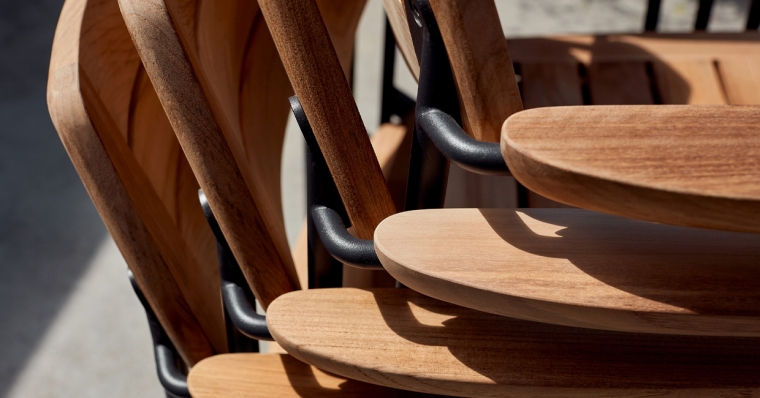 Got it covered
Come rain or shine, providing appropriate coverings to shade from the sun or keep customers dry is essential. While they obviously serve an important purpose, they also double as a rather nice statement piece, particularly if you choose a striking colour.
Last year was reported as one of the warmest years to date and we definitely saw this reflected in our parasol sales. No doubt, we'll see an increasing investment in this particular category as outdoor areas expand and operators look to mitigate the effects of unpredictable weather patterns.