Proper Hospitality has opened the latest addition to its growing portfolio of hospitality concepts, Downtown L.A. Proper.
Set in a reimagined landmark building in the heart of Downtown's South Park District adjacent to the Fashion District, the 148-room destination showcases the vision of internationally acclaimed designer Kelly Wearstler through a design narrative that blends vintage elements from the property's historic roots with modern influences to create a hub for local creatives.
"It was incredible working with the Proper Hospitality team to transform such an iconic and historic building in DTLA," comments Kelly Wearstler. "The design of the hotel was greatly inspired by the community – early California, Spanish missions and the Los Angeles Herald Examiner building across the street. The building is also a Historic-Cultural Monument, so we maintained some of the original integrity and fabric, like the window casing and brickwork, while elevating it with contemporary jewel tones, patterns and plasterwork." 
Deeply residential in feel, each of the rooms and suites is a canvas for curated pieces and specially designed furnishings with charcoal and mauve tones lending depth and warmth. Nodding to its former life as a YWCA, stand-out accommodations include the 1,300+ square foot Proper Basketball Court and 2,500+ square foot Proper Pool suite featuring a full-sized indoor swimming pool accented by a ceramic mural by local artist Ben Medansky.
James Beard Foundation Award-winners, chef Suzanne Goin and restaurateur Caroline Styne, bring the culinary program to life in three distinct spaces with signature restaurant Caldo Verde opening with the hotel this August.
Lobby level restaurant & bar, Caldo Verde, is poised to be a focal point within the hotel and neighborhood, showcasing Goin and Styne's nuanced and warm approach to hospitality.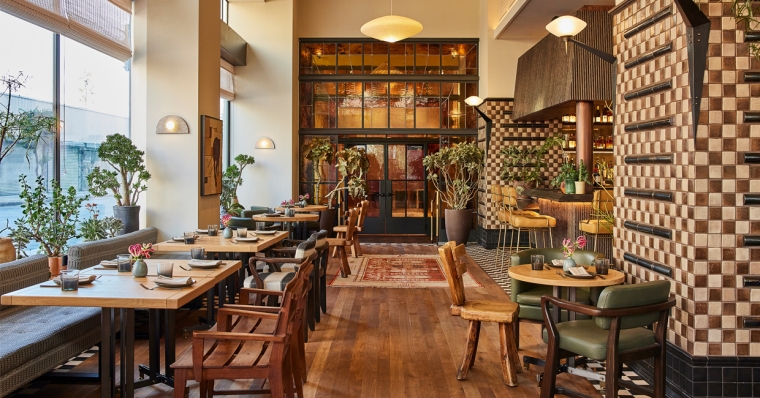 In the weeks following the opening of the hotel, Cara Cara, the restaurant and lounge located on the 5,000-square foot rooftop, with sweeping and unobstructed city views, will debut with a menu similarly grounded in multicultural inspirations including Mexican flavors. Later in the summer, Goin and Styne introduce Dalia, an intimate ground level classic cocktail lounge and bar showcasing small-batch spirits in refined presentations.
"There is so much inspiration to draw from in each pocket of this historic building that is also reflective of DTLA's evolution and modern-day awakening," says Goin and Styne. "We look forward to serving this vibrant neighborhood where locals and travelers converge, offering culinary experiences that tell the story of our personal histories in Los Angeles, as well as travels abroad." 
Underscoring Proper Hospitality's commitment to creating distinct gathering places big and small for all occasions, the DTLA Proper provides more than 14,000 square feet of spaces for meetings, weddings and special events. Settings will also be home to diverse cultural and wellness programming including rooftop yoga and meditation. Guests will additionally enjoy access to complimentary Linus Bikes, and a 24/7 fitness centre featuring Peloton bikes, Tonal equipment and more.