Santo Maris Oia Luxury Suites & Spa, home to one of the largest and most coveted spas in Santorini, has enhanced its offering with the launch of its new Santo Wellness Junior Suites Private Pool.
The new neighbourhood of suites have been curated in partnership with Onolla, the natural, plant-based, health and beauty online platform and bricks and mortar London store, founded by wellbeing and beauty journalist, Suzanne Duckett.
The new Santo Wellness Junior Suites Private Pool will launch as part of the seasonal reopening in April 2022. The suites themselves have been designed to "create a holistic wellness experience and extend the wellbeing experience outdoors to embrace the powerful healing of nature".
"By using the best products and practices, you can cultivate a deeper connection between you and your environment by syncing with the rhythms of nature, mirroring your health, beauty, and life choices with the season and live a better, happier and, hopefully, longer life," comments Suzanne Duckett, founder of Onolla. "The planet needs it, we humans need it. I believe strongly in the transformative power which nature can have on everyone's mental as well as physical health and wellbeing."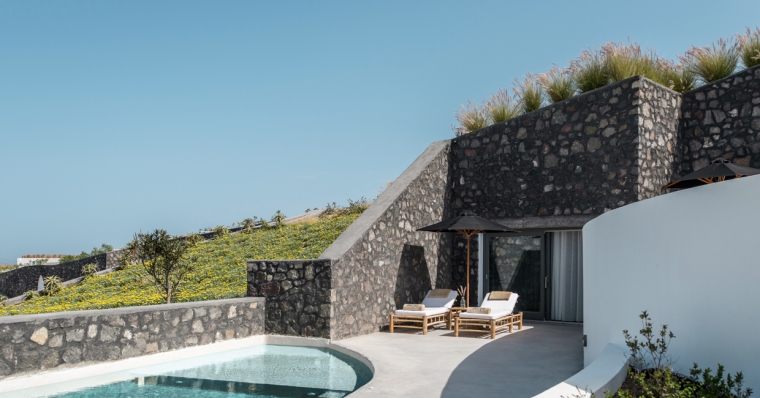 The Santo Wellness Junior Suites Private Pool are inspired by traditional "yposkafa" cave style architecture. The elegantly-crafted suites are built into the natural hillside in a traditional Cycladic architecture style, merging contemporary design with traditional flair.
The raw aesthetics of Santorini's natural environment are combined with a soothing and cocooning minimal interior design of light soft colors and natural design touches ideal for relaxation and enveloping comfort.
Each suite includes a private pool with hydromassage, a personal outdoor veranda with sun loungers, an open sitting area, a king-sized bed, a large stone bathroom with a rain shower, and coffee and tea making facilities, spread over 35 to 45 square metres. 
"Health, wellbeing, and meaningful experiences have never been more important in our lives," says Manos Borboudakis, Group General Manager – Santorini Division, Metaxa Hospitality Group. "The new Santo Wellness Junior Suites Private Pool will allow our guests to live well through nature via a curated wellness journey of experiences both in the suite and the great outdoors exploring the authentic side of one of the world's most beloved islands.
"We hope guests will enjoy this new wellness programme and the variety of authentic experiences we have curated connecting guests to the natural landscape to relax and recharge from everyday life."