Fontainebleau Development's latest venture slated to make its global debut in December of this year pending regulatory approvals, is redefining luxury on the Las Vegas Strip with its collection of award-winning architecture and design partners. Working in tandem with an exceptional in-house team, this group of world-class creators and craftsmen is infusing the 67-story luxury resort with the Fontainebleau brand's rich 70-year legacy through unparalleled touches of opulence and polished sophistication.
"The opening of Fontainebleau Las Vegas marks a significant milestone in our company's legacy, as we look to create an era-defining moment in Las Vegas history," said Fontainebleau Development President Brett Mufson. "Together with our team and Fontainebleau Development's Chief Brand and Design Officer Peter Arnell, we are working to ensure that we are executing on the vision our CEO, Jeffrey Soffer, set forth for the property. This dream could be realised only by partnering with designers that bring an unrivalled depth of knowledge and skill to the project, and a shared history of successful collaborations with Fontainebleau Development."
Design partners selected for Fontainebleau Las Vegas include:
Carlos Zapata Studio
Architectural Designer Carlos Zapata has been retained to develop all exterior architecture at Fontainebleau Las Vegas. Zapata's award-winning namesake studio is recognised for its work on Manhattan's Standard East Hotel, the JW Marriott Hanoi, Singapore's Sculptura Ardmore, Turnberry Ocean Club, and Bitexco Financial Tower, among others.
David Collins Studio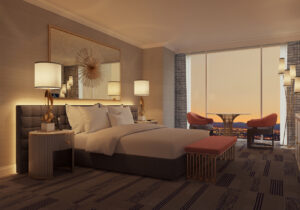 Luxury interior design firm David Collins Studio is celebrated for its work with Mandarin Oriental Msheireb Downtown Doha in Qatar, Nobu Hotel London Portman Square, Harrods, Beverly Wilshire, Corinthia London, Connaught Bar, Anantara Plaza Nice Hotel and The London hotels in New York and West Hollywood, among others. The studio is collaborating with Fontainebleau Development to create the overall design ethos, including the lobby and lobby bar, VIP check-in, and high-end suite product, as well as a bar and lounge concept and steakhouse for Fontainebleau Las Vegas.
Rockwell Group
The award-winning architecture and design firm has designed Fontainebleau Las Vegas's multiple food and beverage concepts, nightclub, dayclub, sportsbook and tavern, aspirational gaming area, and fitness center. Rockwell Group is recognized globally for its award-winning experiences and built environments, including Nobu Hotels and restaurants worldwide, W Hotels worldwide, Equinox Hotel New York, and 1 Hotel Toronto.
"Fontainebleau Las Vegas represents the next chapter in luxury, and we are thrilled to be a part of its story," said David Rockwell, founder and president of Rockwell Group. "Our design concepts reflect the excitement and glamour of Fontainebleau's original mid-century Miami Beach home, reinvented for today's Las Vegas. We've created a dynamic set of spaces that offer guests a journey of discovery, celebration, and relaxation."
Lissoni & Partners
Lissoni New York is the North American office and interior design practice of architect and designer Piero Lissoni, it is an extension of Lissoni & Partners, the Milan-based interdisciplinary studio. Throughout the years, Piero Lissoni has built an international reputation for distinctive design anchored in thoughtful exploration with its diverse clients.
In 2015, Lissoni New York was created to bring this expertise to interior design and architectural projects throughout North and South America. A rigorous dedication to each design project has led to a reputation for authentic and exceptional design solutions for spaces that occupy unique environments. The practice is committed to a holistic approach to place-making that synthesizes global influences, context, and innovation. Each project is approached as an opportunity for scholarship and innovation, and in keeping with the heritage of the Italian Renaissance, every element of the human experience is taken into consideration as the concept evolves. Lissoni New York will execute the vision for the 55,000-square-foot spa at Fontainebleau Las Vegas.
Jeff Leatham
The stunning floral arrangements throughout Fontainebleau Las Vegas will be designed by famed floral designer Jeff Leatham. Leatham started his journey igniting a hotel floral design revolution at the FS Hotel George V, Paris in 1999, wielding his visionary approach to flowers and their power to redefine the guest experience. Throughout his career, Leatham has become renowned for his signature style and continuous collaborations with international luxury brands like Chanel, Balenciaga, Alexander Mcqueen and Bulgari, among many others, as well as his impressive celebrity clientele, over-the-top holiday installations, New York Botanical Orchid Show exhibitions, and much more. Mr Leatham will bring his signature style – bold floral installations that are integral to the setting, never merely a backdrop – to Fontainebleau Las Vegas.
Lifescapes International
Critically acclaimed landscape architectural firm Lifescapes International will create the landscape environment (entire exterior, porte cohere, pool areas, as well as numerous interior environments) throughout Fontainebleau Las Vegas. Throughout its 65-year history, Lifescapes International has earned its reputation as a trendsetter for its work designing integrated resorts and hotels, casinos, multifamily and retail/mixed-use projects, including Fontainebleau Miami Beach, Wynn Las Vegas and Encore Las Vegas, The Mirage, Bellagio, The Grove, The Americana at Brand, Pendry West Hollywood Hotel & Residences, Rockefeller Center Channel Gardens, Encore Boston Harbor, Four Seasons Hotel Macao, The Westin Zhujiajian Resort in China, and Margaritaville Hollywood Beach Resort.
Additional design partners involved in the project include Jeffrey Beers International, who is responsible for the property's outdoor pool district as well as its more than 550,000 square feet of customisable indoor and outdoor meeting and convention space.
"Our partners, working alongside our outstanding team in Las Vegas, will help us realise our dream of building something never before seen on the Strip, an entirely new luxury hospitality product that unites the magic and personality of two legacies – Fontainebleau and Las Vegas," said Mr Mufson.
The DNA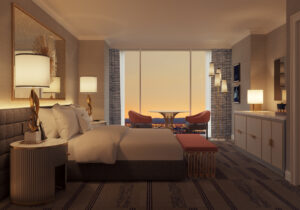 Architecture is the DNA of Fontainebleau Las Vegas' identity, with an imperative homage to the original Fontainebleau Miami Beach. To set the tone, Fontainebleau Development has tapped David Collins Studio, led by the design firm's acclaimed Chief Creative Officer Simon Rawlings, to intentionally weave this ethos throughout the resort's design concept.
"Simon and the David Collins Studio team truly understand our brand and have laid the foundation for us to create an aesthetic that honors the legacy of Fontainebleau Miami Beach's original architect, Morris Lapidus, while looking to the future to bring the next era of luxury hospitality to Las Vegas," said Mr Mufson.
"As we approached this project, it was clear that the history of the brand was an important reference point. We recognized that the design needed to be a nod to the original location, with aspects incorporated throughout the property, but we needed to create something entirely new and unexpected to meet the moment," adds Simon Rawlings. "Throughout Fontainebleau Las Vegas, you'll find monumental and colossal spaces that feature extraordinary spatial forms, materials, and finishes echoing Fontainebleau Miami Beach's design language."
"The history is in the details with icons and symbols effortlessly incorporated into the design that represent the history and authentic personality balanced by modern touches and elegant details geared towards Fontainebleau Las Vegas' discerning global travelers."
The Vision
Overseeing David Collins Studio and other design partners, Fontainebleau Development's Executive Vice President of Design, John Rawlins, works closely with Mufson and Arnell on the overall vision for the project. Additionally, Rawlins and his team are the design lead for all rooms and suites, the casino, as well as select retail stores and Fontainebleau-owned restaurant concepts.
"From a creative and design perspective, no one knows the brand better," Mr Mufson said of Arnell and Rawlins. "Peter has been passionately involved with Fontainebleau Las Vegas since the project's inception, and he brings an exceptional dedication and expertise that truly sets him apart. He's been pivotal in sculpting the brand and design experience to deliver a resort unlike any other. John, who began consulting on the project in 2008 before officially joining Fontainebleau Development in 2016, has done an outstanding job of bringing our vision for the property to life through incredible design, while also working closely with our partners through each of their areas of expertise."
Rooms & Suites
The rooms and suites, designed by John Rawlins in collaboration with the resort's in-house design team, evoke an understated, timeless elegance rooted in the Fontainebleau brand identity. A color palette of blue and silver water tones with dashes of coral-pink is accented by mercury-glass mirrors and brass details. Silver-grey wood veneer, silver-leaf details, pearlescent shagreen inlaid surfaces, and Arabescato marble define the case-goods and other hard surfaces, while custom brass bowtie shaped drawer-pulls represent both exquisite attention to detail and a nod to Fontainebleau's history. The rooms also feature custom carpeting in a linear, art-deco pattern of dove-grey and shades of blue which establish a geometric foundation for the assorted curvaceous furniture selections which rest upon it.
"Having worked across Fontainebleau properties for more than a decade, I'm deeply entrenched in the brand's identity and worked diligently with my incredible team and our world-class design partners to pull that through in all aspects of the property," said Rawlins. "One of Morris Lapidus's best-known quotes is 'If you create a stage setting and it is grand, everyone who enters will play their part.' This motto influenced our choices at every instance, however we strove to achieve these notions without replicating what exists in Miami. While there are various references to the Miami resort, we have achieved a design that's of this current moment in time and will usher in the next generation for the Fontainebleau brand."
Fontainebleau Las Vegas resides on nearly 25 acres adjacent to the Las Vegas Convention Center District's West Hall on the Las Vegas Strip. The property, acquired in 2021 by Fontainebleau Development in partnership with Koch Real Estate Investments, will be solely operated by Fontainebleau Development upon its opening. Additional details on the property will be revealed in the upcoming months.