The newly reimagined Five Out restaurant at the Four Seasons Hotel Amman, a masterpiece of design by the ingenious minds at Studio David T'Kint (DTK), beckons you to explore a realm where sight, touch, hearing, smell, and taste come together in perfect harmony.
At Five Out, dining is elevated to an art form, a symphony of sensory experiences meticulously orchestrated to delight your every sense. The story unfolds in a space that marries the exquisite with the extraordinary, crafting an atmosphere that caters to both indulgence and comfort.
The eyes are the gateway to a magical experience. A captivating blend of verdant greens and muted lights weave a tapestry of nature's elegance, while the sweeping panorama of Fifth Circle's cityscape lends an awe-inspiring backdrop. Canopies reminiscent of Bedouin tents rise gracefully, their presence breaking the confines of linear space, guiding your gaze upwards towards infinite possibilities.
As your fingers graze the fragrant herbs – Basil, Sage, Rosemary, Mint, and Oregano – lining the outdoor compound, a tactile symphony unfolds. Locally procured natural marble, with its timeless grace, entices your touch, while lush plants and trees add life to the surroundings, forging a connection with the earth.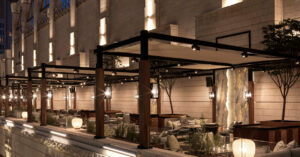 From tranquil lounge melodies to the rhythmic beats of a late-night DJ, Five Out transforms its auditory landscape as day turns to night. The journey is punctuated by the sizzle of live food preparation, filling the air with fragrant promises of the culinary delights to come.
An open kitchen stage invites you to witness the alchemy of flavors, as chefs choreograph dishes that tantalize the palate. The menu's aromatic promises merge seamlessly with the visual spectacle, guiding you on a sensory expedition through every bite.
DTK Studio's ingenious design transcends dimensions. Canopies and trees dance at varying heights, defying the confines of a single plane and ushering a sense of intimacy. Biophilic elements converge with locally sourced marbles, creating a space where humanity and nature coexist harmoniously.
A testament to creativity under constraints, Five Out was born amidst rain and winter's grasp. The challenge of weather was met with determination, resulting in a space enriched by sustainable materials and practices. From granite table tops to locally grown shrubs, every detail stands as a testament to meticulous execution.
Five Out isn't just a restaurant; it's an ode to the human experience. As you nestle in plush seats beneath the tent-inspired canopies, you're cradled in comfort while surrounded by unobstructed cityscapes. A balanced blend of neutral tones and vibrant surroundings offers an ambience that's simultaneously soothing and invigorating.
Five Out transcends mere dining, encapsulating the essence of sight, smell, touch, taste, and sound in an immersive tapestry. It's a tale spun by the genius of Studio David T'Kint, a space where biophilia, locally sourced materials, and innovative design coalesce to create an experience that resonates with the very heart of the brand, "Five Out."
Set against the backdrop of the illustrious Four Seasons Amman, Five Out is an oasis of sensory indulgence. Spanning 420 sq. m., with room for 34 dining patrons and 64 lounge enthusiasts. Dine, linger, and experience the world anew at Five Out. In the heart of Amman, a symphony of senses awaits.