Ibiza Gran Hotel's Gran Suite Dalt Vila is considered one of the most decadent and sought-after suites across the Balearics and it has unveiled a brand new renovation.
The luxurious 1,600-square-foot loft overlooks the bay, Dalt Vila and Formentera with unmatched views of the Mediterranean blue sky and sea. It includes a large bedroom, spacious living room, dining area, cocktail bar & wine cellar, and a 1,900 square-foot terrace with a heated infinity pool, outdoor jacuzzi, and solarium with an olive tree. Exclusive amenities include luxury Bentley airport transfers, access to the famed Open Spa, Brand Ambassador service, and butler service upon request, along with thoughtful touches like customized pajamas.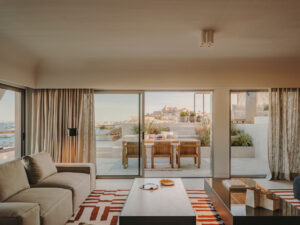 The Gran Suite Dalt Vila was recently renovated as a custom project by Spanish interior designer Sandra Tarruella. The suite's interior design was inspired by the beauty of its unmistakable Dalt Vila view, with a chromatic range of colors selected to embody the World Heritage Site's stone walls and white houses. Adorned with custom and designer furniture pieces, artwork in collaboration with ABA ART LAB, exterior sculptures by Franco Monti, and ceramics by Pere Coll, Gran Suite Dalt Vila has a bright, exclusive, warm, and elegant atmosphere intimately related to the values of Ibiza Gran Hotel.
Designer Sandra Tarruella sought to create a serene and Mediterranean ambiance in the new Gran Suite Dalt Vila, combining designer pieces with custom furniture, such as an enameled lava table. The incredible views of Dalt Vila inspired the design for the project: the chromatic stone walls of the UNESCO World Heritage Site are reflected in the off-white lime paint on the interior walls, and the white houses and the blue/green water is mirrored in the colour palette for the space.
All the interior and exterior stone is made Piedra de Binissalem grey stone, an indigenous stone. Using this material reduces the environmental footprint, preserves local identity and promotes sustainable economy.
Ibiza Gran Hotel is home to a stunning collection of more than 400 pieces by contemporary artists from all over the world, created specifically for the hotel. The collection revolves around five elements – earth, air, life, water and sky. In the Gran Suite Dalt Vila is a sculpture by Franco Monti, featuring textured pigmented concrete that integrates seamlessly into the space between the olive tree and pergola and illuminated during the night. Inside, the designer worked with ABA ART LAB gallery to create a glazed ceramic work in terracotta colour. In addition, Pere Coll, one of the most experienced artisans in the Balearic Islands, created a set of ceramics made from pure red clay with a glazed honey finish in reference to the delicacy and strength of the earth.