Ophelia's Pizza + Bar is a 2,700-square-foot neo-Italian, lounge, restaurant, bar, and neighbourhood-gathering space located in the heart of Nashville's evolving financial district. Serving as both the Architect of Record and General Contractor, The Bradley Projects and Certified Construction Services brought this project to life.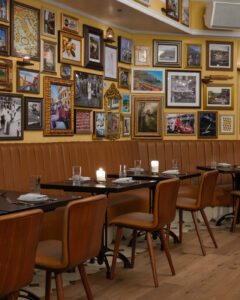 The project reuses the existing retail area at the base of the historical L&C Building and transforms it into a modern yet comfortable and familiar space. An intimate restaurant that celebrates the tradition of Italian dining, Ophelia's seamlessly blends into downtown Nashville's quickly transforming high-end entertainment areas.
Materials chosen for this project were intentionally curated to create a classic Italian cafe vibe while fitting into the vibrant urban streetscape of the downtown scene. Rustic but clean white ceiling boards contrast beautifully with the simple plaster walls and intentionally overcrowded choreographed artwork. Clean walnut wood flooring is carefully carved out to allow Italian tile to be laced in for unexpected yet functional moments. A glass facade is incorporated across the entire building face with sliding panels to blur the edges between indoors and outdoors.
Inspired by the classic Shakespearean tragedy, Hamlet, Ophelia's reimagines European dining traditions within Nashville's core. The menu focuses on Italian-inspired cuisine created by Chef Partners Jamie Lynch and Adam Hodgson utilizing imported Italian ingredients and local Nashville products. The newest dining option to 4th Avenue, Ophelia's Pizza + Bar, is just across the street from the 5th Street Group's first Nashville restaurant, Church & Union