Bergman Design House, the award-winning studio founded by Marie Soliman and Albin Berglund, is delighted to unveil The Lund Collection, launching in the Cotswolds in Spring 2022.
 
The design-led, one-bedroom private cottage is located just a stone's throw from Chipping Norton and Great Tew and provides an oasis of calm for couples, friends and solo travellers alike.
 
The Lund Collection is exquisitely decorated by the husband-and-wife design duo and features a carefully-curated collection of original artwork and vintage treasures alongside new bespoke furniture from the studio's Black Berg Collection. From 17th century Chinese ceramics and an 18th-century marriage armoire turned showstopping drinks cabinet to a modern and luxurious deep-soaking bathtub, design lovers will marvel at the wonders on display.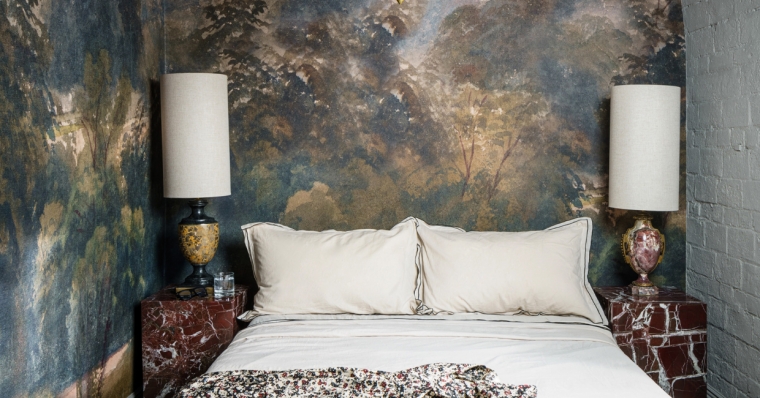 "What's been so enjoyable about this project has been the 'treasure hunt' for the most incredible antique and vintage finds, all of which tell their own unique story while highlighting the beauty of the newer items next to them," said Marie Soliman, Founder and Creative Director of Bergman Design House, on the process of creating The Lund Collection. "It's an approach I like to call 'organised chaos'; the creation of a space that is both functional and timeless, with a playful hint of surprise or whimsical energy."
Inspired by the beauty of the Cotswolds, the property features a colour palette that reflects all four seasons, from the vibrant green of Summer to the russet-oranges of Autumn. In combination with the work of some of the most distinguished furniture and textile artisans in the UK, including Upholstory, Robert Kime, Tori Murphy and de Le Cuona, the result is nothing short of spectacular.
 
The Lund Collection is Bergman Design House's foray into a new line of luxury individual accommodations in the UK, providing the utmost privacy while offering the ultimate guest experience.  Featuring a fully stocked bar, hand-curated welcome hamper and a state-of-the-art Swedish Moccamaster coffee machine, guests will arrive, immediately relax and feel at home.
 
Creating and designing the property has been a passion project for Marie and Albin, and they hope it will be a sanctuary for future guests seeking zen and an escape in the countryside. "We fell in love with this cottage and the absolutely stunning countryside. We are so thrilled to share it with our guests. It is intended to be a sanctuary for all who visit – we want our guests to come here and truly switch off, connect with nature and feel at home," said Marie.
 
Nightly rates at The Lund Collection start from £595 per night including a welcome hamper with wines personally curated by Albin.