The Connaught Grill will reopen today with a revised offering and a considerable renovation led by interiors architect, John Heah.
A discreet rosewood-clad hallway leads guests down to the Grill room. Custom cabinets line the corridor walls displaying one-of-a-kind vintages of wines and champagnes from Burgundy's Domaine de la Romanée Conti to Bollinger Vieilles Vignes Francaises – drawn from The Connaught's extensive wine cellar – and works of art by design masters Louise Bourgeois, Idris Khan and Le Corbusier line the length of the entrance.
The 46-seat restaurant is a showcase of contemporary creativity and craftsmanship, designed to continue the Connaught legacy for years to come. Against the original Connaught ceiling with its ornate mouldings and arches, John Heah has created a subtle backdrop in which to showcase the extraordinary artistry of George Nakashima Woodworkers.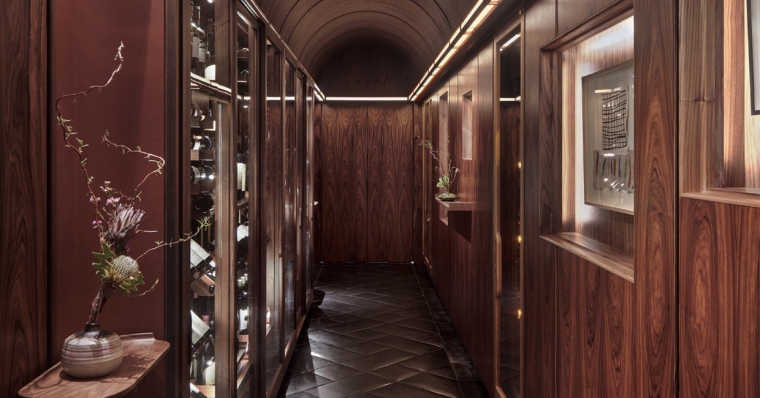 Handcrafted American black walnut runs throughout the space – in the structure of the dining booths, the free-form edge tables, signature Conoid chairs, and the magnificent solid back panels. All the wood was carefully chosen, polished, cut and trimmed in the Nakashima workshop in Pennsylvania and assembled at The Connaught under the watchful eye of the late woodworker, architect and furniture maker's daughter Mira Nakashima.
The raw panels with their natural fissures are bound with elegant butterfly joints – a Nakashima signature.
Chef Jean-Georges Vongerichten pays homage to classic grill dining, but with his own signature twists of modernity, and using ingredients with the finest provenance.