Located in the heart of Dubai's favorite beachside development, the Rove La Mer Beach boasts a total of 366 rooms that are perfect for friends and families that travel together. Guests can rise and shine to the glistening Arabian Gulf in a Rover Room with sea view or inspiring cityscapes evocative of the adventures that lay ahead. Rove's fuss-free, casual ethos means that guests have access to the Barista lounge, the signature Daily restaurant, a 24-hour gym, and a large outdoor terrace with the beachfront bonus of a sea-view pool and sun deck. The neighbouring beach at La Mer offers plenty of experiences, including a waterpark, an exploding culinary scene and interactive art installations.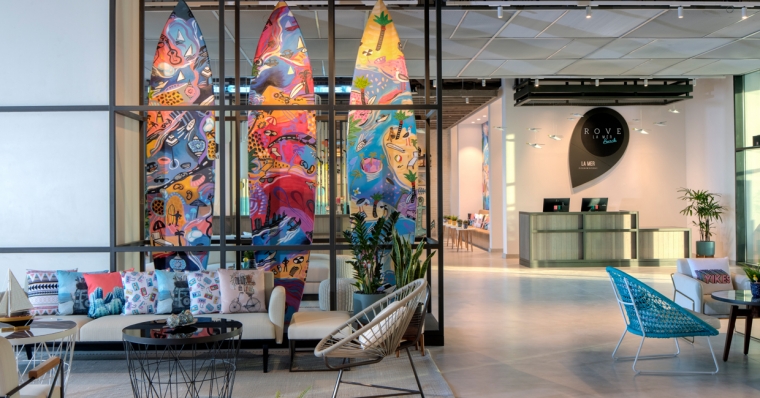 Designed to embody the urban beachside vibe that permeates La Mer, hotel guests are welcomed into a casual and vibrant lobby. With its seaside colour palette, striking maritime inspired art installations and expansive glazing that frames the sea, the hotel interior is a treat for the visual senses. The lobby and the sprawling terrace lounge are one as the décor extends seamlessly from interior to exterior. The sandy tone seating elements are lined with a flurry of vibrant and eclectic cushions that capture the playfulness that is so readily associated with the Rove brand. The oversized wall graphics, handpicked accessories and quirky art installations are paired with the polished concrete floor, the chalk white brick walls, the driftwood beams of the feature ceiling and the blackened steel structures to strike the perfect balance between seaside elegance and industrial chic. Bright turquoise hammocks, beanbags and day beds were specified to create a harmonious yet distinct semi-private beach space blending perfectly within La Mer's own seaside development.
"When envisioning this project, we wanted to ensure that we retained the brand experience that our Rovers know and love, while also offering them something totally new and exciting – a resort-style hotel and the next evolution of the Rove journey. We believe that partnering with MMAC has enabled us to take an ambitious concept and make it a reality through a creative yet fuss-free hotel design, which aligns perfectly with the guest experience provided by our team." noted Paul Bridger, from Rove Hotels' Management.
Up and coming projects – Following closely on the heels of the Rove La Mer Beach is the Rove City Walk (Dubai) and the Rove Al Marjan Island (RAK). Each venue stays true to the core values of the Rove brand whilst incorporating a remarkable and singular design inspired by their own unique locations.
Images Credit: Rove