On Thursday 3rd December, as The Berkeley reopens its doors to all, the hotel will reveal a new festive addition: Winter at The Garden. Following the summer sell out success of The Garden and now reimagined for the winter months, this culinary terrace spot will consist of five cosy wooden cabins, each seating up to six diners. These cabins, glittering with flickering candles, will be decked with wreaths courtesy of McQueens, and surrounded by a forest of fir trees and fairy lights. Guests will be armed with blankets and heaters to keep warm. A menu of alpine specialties, built around a showstopping raclette grill, will delight eager guests after weeks of eating at home.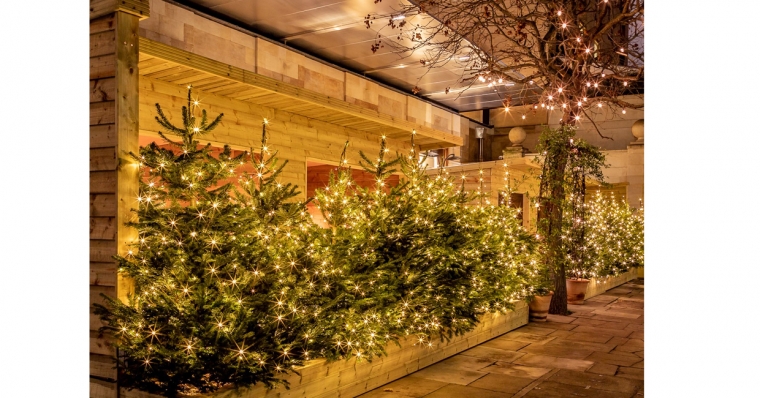 Winter at The Garden will offer a menu of seasonal plates in convivial eating style – the antidote to lockdown living and perfect wintertime dining. Guests will be welcomed with fondue and toasted sourdough – a signature touch from the team. Starters include a trio of rostis flourished with different toppings – beetroot cured smoked salmon, Ibérico Bellota ham and watercress, and sautéed cep and king oyster mushrooms. Alongside will be smoked beef hot dog 'sliders' topped with sauerkraut, jalepeno and smoked cheddar and a hearty oxtail soup with toasted Gruyère croute. Next comes the main event – each cabin will be provided with its own authentic raclette grill, straight from the slopes, for 'build your own' indulgent dishes. A feast of carefully-sourced cheeses, meats and vegetables will be bought to the table for diners to pick and choose, customise and grill – Morbier, Gouda, pastrami, smoked duck, Coppa ham, baby potato wedges, confit pickled onions, chestnut mushrooms and artichokes are all among this smorgasbord of delicious ingredients. Additional star ingredients will be also available to add on and order – Gorgonzola, native lobster tails, Wagyu beef, grilled tofu and vegetable skewers, lamb Merguez sausages and shaved black winter truffle are all on this very special menu. Guests will be encouraged to grill their own Wagyu or give their lobster a final sizzle.
Decadent desserts are designed to share, comfort and wow, from apple and raisin strudel and pear and blackberry crumble, to a hot chocolate brownie complete with molten centre and accompanied by bourbon vanilla ice cream. The flambéed baked Alaska is set to be a standout dish, and will feature three different flavours of ice cream – chocolate, orange and macadamia. Finally, the Winter Garden team will be on hand to present a very special hot chocolate tableside – served short and punchy – as Valrhona chocolate is mixed with a generous glug of either rum or whisky.
The drinks list showcases a wide range of craft beer, wines, champagnes and hot cider. Classic cocktails are also available. The beer menu, in particular, has been a key focus – all hail from Belgium including some rare bottles for guests to discover. Special varieties are housed in big bottles, to be served in the style of a champagne pour.
Winter at The Garden is open from Thursday 3rd December 2020.