London-based architecture and interior practice TR Studio have designed and built Malverleys, a farm to table restaurant by Emily von Opel which celebrates sustainability and refined, modern design.
Just a short journey from London in the South England countryside, Malverleys is set on extensive wood and farmland. TR Studio were briefed by von Opel to design and build the new restaurant with a concept that celebrated modern, sustainable design and was in keeping with the local vernacular, which comprises mainly of architectural outbuildings and Arts & Crafts style dwellings.
The restaurant which seats 30 features a blend of contemporary design choices and antiques curated to create a timeless and elegant interior. The space itself features a warm, dark oak floor and a grand pitched roof painted in a dark charcoal high gloss. TR Studio utilised exposed green oak trusses and beams, lending a traditional character to the interior. This green oak structure served as one of the base references for the rest of the material palette.
Oversized voluminous Phantom pendant lights by Normann Copenhagen made from a semi-transparent resin hang from the vaulted ceiling and provide a soft and warm illumination for guests. Scattered across the beams, a dried flower and foliage installation from Fleur by Ottilie adds subtle decoration and texture to the space and together with the pendant lighting creates an almost ethereal starry feel.
Central to the restaurant is a large Arts & Crafts style chimney with an open fire constructed from red brick and flint. Ensuring this traditionally inspired feature imbues a modernity, large Crittall style floor to ceiling glazing surround it. Linking the interior to the exterior terrace dining area, the Crittall style glazing continues to wrap the restaurant space, flooding it with natural light. Rose Uniacke linen and wool blend Marsh Green curtains with a Ralph Lauren Harrison Corduroy fabric trim in Loden, soften and frame the vista of landscaped gardens and orchards outside.
Zoning the expansive restaurant area, large round tables from Benchmark with contemporary black metal bases and sleek timber tabletops are paired with classic, mid-century walnut chairs from Carl Hansen which seat groups of 4.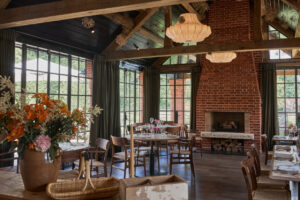 Balancing the formal seating area, comfortable booth seating line the opposite wall and provides guests with a more cosy and casual area to dine. Here, square Benchmark café style tables, also crafted from metal bases with timber tops, accommodate smaller groups of 2. Known for their highly crafted approach to bespoke joinery, the booths designed by TR Studio are made from oak and are upholstered in Malone Sotega faux leather in a rich cocoa and striped textured weaves from Christopher Farr.
Walls are painted in Farrow & Ball Lime White with glazing tempered by café curtains made from a neutral linen which layer the cosy and relaxed seating area with texture. Contemporary slim black picture lights and ceramic Creamware wall lights illuminate original paintings and contemporary art prints which decorate walls.
A vintage French sideboard multi tasks as a waiter station for crockery and cutlery whilst also cleverly acting as a low-level room divider, partitioning the restaurant space from the cocktail bar and kitchen counter.
Designed with restaurant theatre in mind, TR Studio created the dual cocktail bar and open kitchen counter so that guests can watch the buzz and hustle of the kitchen led by acclaimed UK Head Chef Hugo Harrison. Echoing the structure of the Crittall style glazing, the open counter with its luxurious and vibrant green Costa Esmerelda marble surface features a bespoke steel and glass display grid in which wine, spirits and glassware are housed.
Surrounding the kitchen, which features stainless-steel appliances and a wood fire oven, glossy Bejmat tiles in a muted olive green from Mandarin Stone are laid in a vertical format. Modern black framed Font bar stools by Studio Thulstrup seat 4 and feature Kvadrat Vidar fabric in a rich emerald green adding an edge of sophistication and glamour to the intimate area.
Leading from the restaurant outside, the terrace provides further restaurant seating in the form of large rustic communal tables with oak frames and steel surfaces, benches, and metal outdoor bistro furniture. The main roof of the building over sails the brick elevation to form a covered terrace. Here, the open fireplace featured inside the restaurant provides an equal focal point outside with the external façade of the fireplace surrounded by large comfortable bench seating and soft furnishings.
Across Malverleys, TR Studio together with Emily von Opel, have created a relaxed yet elevated interior concept that successfully combines timeless, elegant contemporary design with elements of traditional Arts & Crafts in a project inspired the local countryside community in which it serves.
On Malverleys Farm & Dining, TR Studio founder Tom Rutt comments: "Our studio fundamentally believes in working closely with the site and the client, and this project exemplifies this approach. We wanted to create a welcoming and homely feeling at Malverleys where the local community feel a sense of belonging, whilst also achieving a level of elegance and detail that define both the studio and our client. The project is crucially about materials, details, and layering – it doesn't reveal itself all in one visit but should continue to offer surprises and a level of craft that is synonymous with the local area."