BIID Past President and founder of Freeman Studio, Mathew Freeman, explains why interior designers should be ensuring sustainability is at the forefront of their design projects.
Our industry has faced unprecedented challenges in recent years. We are faced with pressing environmental issues which have made the global sustainability agenda foremost for many designers. As our world transitions to a low-carbon future, interior design and the built environment have an enormous part to play. Looking at residential interior design, there are 57 million homes in the UK, think of how many mattresses, sofas, chairs, tables, lamps, drapes, etc there are in use. As interior designers we are pivoting our focus, looking to retain existing pieces, refurbish, reuse others, and as a last resort recycle. New pieces introduced to homes should also be specified with a keen eye on the circular economy, making selections that are designed to be dismantled and refurbished, and choosing furniture where spare parts are available to extend a product's life.
The design sector has been addressing many of these challenges. I'm pleased to learn that Decorex has launched a Sustainability Task Force with several initiatives which aim to educate, encourage and support the design community in becoming more sustainable. It's a joint venture between exhibitors, designers and collaborators of Decorex, all with a shared purpose to achieve a more sustainable event. BIID members, Chloe Bullock from Materialise Interiors and Simone Suss are part of the Decorex Sustainability Task Force and will also be taking part in the Design Talks programme which is packed with informative panel discussions which focus on sustainability.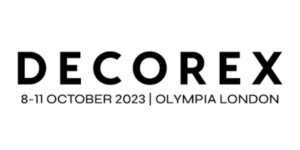 This year's show will also feature a 'Colour Trail' with colour expert Karen Haller and BIID Member and interior designer, Simon Hamilton. The trail will feature 20 carefully selected exhibitors who not only champion colour but use it innovatively with a sustainable approach. Key sustainable criteria such as sourcing materials, manufacturing processes, waste reduction and recyclability will all play a key part.
We're delighted that once again Decorex is sponsoring the BIID Interior Design Awards. At the BIID Interior Design Awards ceremony on 12th October, designers across the UK will be celebrated for their winning interior design projects. Sustainability is a particularly important part of the judging process. As well as our regional categories, the Anna Whitehead Prize was especially created to recognise and reward projects with outstanding sustainable interior design.
In 2022 Pfeiffer Design won the inaugural Anna Whitehead Prize for their project, the Design Studio, Chapel Barn. The judges recognised this project as a superb example of a reuse scheme that makes a feature of its former life through not hiding away its original structure. It displayed great use of retrofit of sustainable technologies including rainwater harvesting, maximizing air tightness and insulation to enable the use of heat pumps in the retrofit. The project used a varied use of finishes to create different moods suitable to the interior design of the different environments within the project, whilst being mindful of a local supply chains for supply and installation. The project is a great example of how interior designers can successfully integrate sustainability at the centre of their design schemes.
The BIID has a well-established sustainability committee, which has developed our Sustainability Strategy, to help provide guidance to our members and the wider interior design community. We have produced an in depth tool kit – The BIID Sustainable Specifying Guide – which is designed to provide interior designers with a broad knowledge of the sustainability issues associated with specifying products, materials and technologies.
As interior designers, we can have a direct influence on our clients, bringing sustainable solutions to the table. By explaining the importance of sustainability at the outset of a project, interior designers can help their clients decide upon their project goals and take them on a journey to understanding why 'health is wealth', and empower them to see how they are able to make a tangible difference in the future of our planet.