White Lodging and its partners have announced that they have officially topped out the first Kimpton Hotel in San Antonio. The construction milestone on the 10-story building keeps the project on schedule after breaking ground in October of last year. Kimpton San Antonio, located at 423 S Alamo in downtown San Antonio, is set to open in the fourth quarter of 2024.
As a part of IHG Hotels & Resorts' luxury and lifestyle portfolio, Kimpton San Antonio stands at the forefront of a new wave of hospitality destinations in the city, offering a truly exceptional luxury lifestyle hotel experience. Nestled on the border of the vibrant Southtown neighbourhood, this hotel seamlessly merges an 18th-century historic German-English schoolhouse with sleek, ultra-modern rooms and amenities.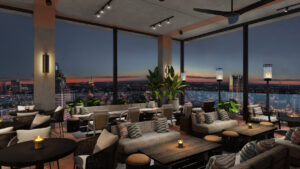 The 347-room property features a restored and adapted German-English school from the 1800s that was originally built by German settlers. The original brick, stone and wood architecture is being carefully restored and repurposed.
"This is a pivotal moment not only for Kimpton San Antonio, but the surrounding community," said Jean-Luc Barone, White Lodging's Chief Executive Officer. "Together with other surrounding developments, we are creating a new destination district by solidifying the connection from downtown to Southtown."
Kimpton and White Lodging, in partnership with HKS Architects, Harvey Cleary Builders, and Blum Consulting Engineers, are bringing the hotel's structure to life supported by the interior design expertise of KTGY Simeone Deary Design Group.
The main historic building will be repurposed to become the property's high-end steakhouse. The additional historic structures are being reimagined into eight guest suites and a charming courtyard cocktail bar, all surrounded by protected outdoor space and century old trees. A unique whiskey bar and rooftop bar round out the Kimpton San Antonio's food and beverage offerings.
The hotel is in a prime location, positioned between downtown San Antonio and the Southtown neighborhood with easy access to the Henry B. Gonzalez Convention Center, River Walk, Alamo Plaza Historic District, King William District, La Villita, Hemisfair and more.
"We're thrilled to partner with White Lodging to open our first Kimpton hotel in San Antonio," said Mike DeFrino, Managing Director, Luxury & Lifestyle Americas at IHG Hotels & Resorts. "It's exciting to see how close we're coming to welcoming in folks to our hotel and its restaurants and bars. When the time comes, we know they'll be blown away with the stunning design, thoughtful programming and genuine hospitality the Kimpton brand is known for."
In addition to 16 luxury guest suites and ample food and beverage options, the new Kimpton San Antonio will feature a rooftop pool and more than 11,000 square feet of flexible meeting and event space.