Monte-Carlo Société des Bains de Mer has announced the acquisition of the Palace des Neiges in Courchevel 1850 – the first international hotel for the group. Led by Chairman and CEO, Stéphane Valeri, the project is part of the group's strategy to expand further into international markets.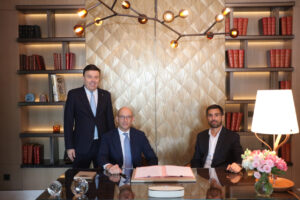 Located at the heart of the Jardin Alpin district, which boasts a number of leading luxury hotels, the prestigious French Alps resort was acquired by Monte-Carlo SBM on 3 October. Bringing its extensive know-how and expertise to the destination, the group will be expanding its horizons with a major renovation planned for Palace des Neige in 2024.
To identify the property and provide optimal support, S.B.M Group approached the Vallat group due to a shared enthusiasm to develop the luxury hotel project. This reputable partner boasts highly advanced knowledge of the real estate market in the Northern Alps, and particularly in the Courcheval valley, where the family of Mr Joffray Vallat, the group's president, has lived for decades.
The Palace des Neiges will continue to operate throughout the 2023/2024 winter season under the Alp'Azur group. Renovation work will begin in April 2024.
Stéphane Valeri, Chairman and CEO, said: "It is a great satisfaction for our group to succeed for the first time in its history in finalising an international hotel acquisition project, which moreover is next to some of the biggest names in luxury hotels in the Alps. The future renovated establishment will be a new growth relay for us, with complementary seasonal human resources."
Pascal Camia, International Development Director, said: "I would like to thank all the teams that worked so professionally to bring this project to fruition. From now on, we want to offer an exceptional hotel, allowing us to export our know-how to a place highly sought-after by our customers and by those we wish to attract to our group's global offering."