Revery, at London Hilton on Park Lane, emerges as Mayfair's most exciting and stylish destination for coffee connoisseurs, cocktail enthusiasts, and late-night bon vivants. Under the expert stewardship of renowned General Manager Nigel Tindall, Revery has been unveiled as part of London Hilton on Park Lane's recent multi-million-pound refurbishment. Designed by AvroKO, Revery captivates guests with its unique blend of artistry, ambiance, and epicurean excellence.
Revery, nestled on the ground floor of the iconic London Hilton on Park Lane, invites guests to immerse themselves in an elegant oasis that seamlessly combines contemporary luxury with the glamour of the 60s. The space is a sensory delight, featuring dark blush and terracotta hues with lavish red seating, punk-inspired design elements, and strategically placed mirrors to create an enchanting atmosphere that exudes sophistication and energy.
What sets Revery apart is its transformation from day to night, offering an unparalleled experience whether you're seeking an artisanal morning coffee or late-night cocktails. During the day, guests can savour gourmet coffee and expertly crafted pastries in an atmosphere that exudes timeless charm. As night falls, Revery undergoes a transformation with dimmed lighting and atmospheric music curated by its resident DJ, exuding a luxurious escape that's perfect for cocktails and socialising.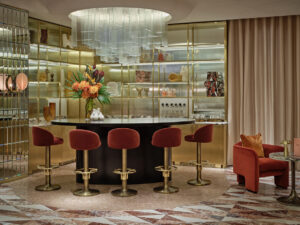 At the heart of Revery stands a beautifully curved cocktail bar, adorned with a striking glass sculpture overhead and a backlit wall showcasing an impressive array of spirits. Guests can choose to relax on plush red velvet stools or sink into comfortable sofas. The art-deco-inspired interiors, embellished with patterned carpets, captivating light sculptures, and lush floral displays, create an unforgettable backdrop for any occasion.
The food and drink journey at Revery is equally enticing. Mornings begin with a delicious breakfast menu featuring dishes such as caramelised banana porridge, chilli cheese omelettes, and a crowd-pleasing bacon and egg sandwich. Daytime treats include classic dishes such as crayfish and prawn cocktail, cornflake fried chicken, and crab croquettes. Coffee takes centre stage with a meticulously selected, ever-evolving range of single origin beans from Workshop Coffee in Fitzrovia, accentuated by a splendid Elektra-Belle Époque coffee machine, a work of art in its own right.
When evening descends, it's time to explore the signature cocktails, expertly crafted by Head Bartender Giusepina De Filippis who ensures that each tipple tells a tale. Must try drinks such as the 'House Cup' and 'Majesty' are inspired by a distinctly British spirit cabinet paying homage to the nation's long-standing distilling heritage with every sip. Those looking for no and low options are not disappointed with an inclusive Zero Cocktail offer featuring drinks such as Arriba Arriba and Barranquilla, which are crafted with the same meticulous care as their spirited counterparts.
One of Revery's standout offerings is its midnight sweet treats for revellers who crave late night indulgence. Freshly prepared and irresistibly delicious, these delights are the perfect complement to London's newest and most captivating cocktail experience.
Revery at London Hilton on Park Lane seamlessly transitions from a sophisticated daytime coffee hot spot to an enchanting mixology-driven experience after dark. With London-inspired cocktails, exceptional coffee, and high styled interiors – Revery is set to become Mayfair's premier spot for those in search of the extraordinary.